A study commissioned by the Central government has found that the Gujarat government follows the best practices for acquiring land in India.
The study by the department of industrial policy and promotion (DIPP) has also said that the state has the best environmental licencing procedures. In the course of the election campaign, Congress leaders, including Rahul Gandhi, have criticised the Gujarat government for allegedly giving away land for a song to industries.
But the study, prepared by Accenture and hosted on the DIPP website, notes, The model followed by Gujarat Industrial Development Corporation oversees and ensures reduction in complexity across all processes in getting land. And, although, there might be some implementation issues but it is still wholesome and addresses concerns of all the relevant stakeholders.
The study, part of the broader best practices for improving business in the country, has classified, along with Gujarat, others like Maharashtra, Andhra Pradesh and Rajasthan as among the handful of states which have models worth following by other states.
Surprisingly, for finance and tax-related compliances, West Bengal figures in the list for single-point information dissemination along with Karnataka for integrated and comprehensive system for VAT.
The study also praised Andhra Pradesh for land and building related compliances, Maharashtra and Rajasthan for labour law-related compliances, and Bihar for single window clearances. The study comes amid the Doing Business Report 2014 of the World Bank ranking India at the 134th position among 189 economies. The country scored poorly on parameters of protecting investors, getting electricity, getting credit and registering property, among others.
Along with global factors, investors both foreign and domestic have been highlighting the indecisiveness, lack of transparency, poor governance, corruption and lack of ease of starting and conducting business for decline in investments in the country.
Maharashtra best for industrial, labour nods: DIPP
As India struggles to regain investor confidence by easing the way business can be done in the country, it doesn't have to import ideas. In one way or the other, many Indian states are setting examples for others to follow.
Maharashtra's single-window clearances for industrial units and labour management, for instance, were the best in the country while Gujarat excelled on land acquisition and pollution control, says a new study. Jointly done by the Department of Industrial Promotion and Policy and management consultancy Accenture, the study found Karnataka's integrated and comprehensive indirect tax management system worth emulating.
The study evaluated Indian states' performance in terms of the ease of doing business according to various criteria. The DIPP report comes amid a gloomy economic scenario and an investment famine.
Last year, the World Bank and the World Economic Forum ranked India poorly in terms of business environment. Problems and restrictions plague businesses throughout their life cycle, making it difficult, expensive and cumbersome to start, grow or exit from a business.
"There is a clear need to make it easier to do business in India. Improving the business environment is likely to spur growth and generate employment for millions across the country," DIPP said in its report, which has taken inputs from various studies conducted by the World Bank, World Economic Forum, Bain-FICCI, CII-KPMG and Planning Commission-Deloitte.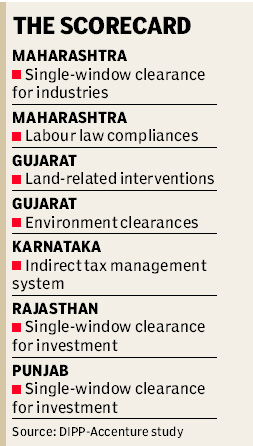 Highlighting Karnataka's tax management system, the report said online tax payment system has drastically reduced the tax realisation and reconciliation time from T+6 days to T+1 and saved 20 lakh person kilometre a month.
Elaborating on Maharashtra, the report said the single-window clearance system MAITRI issues 31 clearances and approvals required for setting up industries in the state. It acts as a clearing house for all investment-related information -- clearances, incentives, subsidies and even grievances.
While cumbersome labour laws pose a major hindrances for business, Maharashtra's Labour Management Solution (LMS) helps comply with 46 labour laws through online application, renewal and clearances. While the time taken for issuing new licences was 10 days, renewals (7), return filing (15) and issuing no-objection certificate (15), each of these is now achieved in half a day. While approvals have been streamlined, the state has doubled the minimum wage of workers to Rs 4,000 per month.
In case of Gujarat, the GIDC and investor facilitation portal (IFP) has simplified land acquisition and helped in expediting land allotment to industry by four times from 285 hectares in 2008-09 to 1,564 hectares. The state passes on to the landowners the 10% differential it gets for land deals, which helps in eliminating chances of future litigations.
The Gujarat Pollution Control Board's e-governance project helps the industry in getting online clearances. The number of applications process increased six times from 1,500 before the system was put in place to 9,823 now, while the number of inspections have more than doubled to 24,000 and e-returns jumped four times to 12,000 a year.
Rajasthan's single-window clearance help in processing 86 firms of 11 departments online while a similar process in Punjab clears a proposal within 3-4 weeks.
States that have streamlined clearances and improved governance have benefited from higher growth Maharashtra and Gujarat have grown by over 9% between 2005-06 and 2012-13 even as the overall GDP growth averaged 7.6%.