There?s a slew of all-new high end SUVs ranging between Rs 20 lakhs to Rs 3 crore.
Theres a slew of all-new high-end luxury SUVs ranging between Rs 20 lakh to Rs 3 crore which are worth the wait.
Porsche Macan
Price starting from: Rs 60-80 lakh; Engine: 3.0-litre diesel, 3.0-litre petrol
The Audi Q5-based Macan is Porsches entry into the luxury compact SUV segment and will be positioned below the Cayenne. It will be launched in three forms, the Macan S, Macan Turbo and Macan Diesel S, and will compete against the BMW X3 and Volvo XC60. The Macan S is powered by a 3.0-litre turbocharged V6 petrol engine producing 335 bhp. The Macan Turbo gets a bigger 3.6-litre turbocharged V6 petrol engine that develops 394 bhp. However, its the 254 bhp Macan S Diesel, with its 3.0-litre V6 diesel engine, that is likely to make up most of the sales in India. All models will be mated to Porsches seven-speed, dual-clutch PDK automatic gearbox.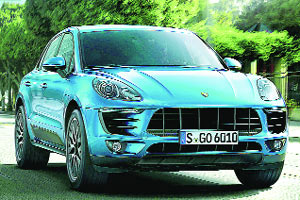 New Ford Endeavour
Prices starting from: Rs 20-25 lakh;
Engine: 2.2, 3.0-litre diesel
Ford unveiled the Endeavour concept a few months ago. Designed by Fords team in Australia, the new SUV looks way more aerodynamic than the boxy-looking older car. It has still maintained its butch appearance though, with those massive wheel arches, big EcoSport-like grille and huge tyres. Its also got a lot of modern touches like the sleek, aggressive headlamps, and the sloping rear section. The new Endeavour will continue to be a seven-seater and will come with the option of 2.2-litre and a 3.0-litre diesel engines. There is also a new automatic gearbox on the cards. However, dont expect to see this new Ford SUV in showrooms any time before the end of 2014.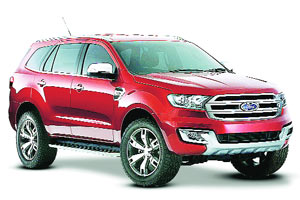 Jeep Grand Cherokee
Price starting from: Rs 60 lakh; Engine: 3.0-litre diesel
Jeep calls it the most awarded SUV of all time, and the Grand Cherokee makes a strong case for itself in a market dominated by German luxury SUVs. It competes pretty much head-on with them in terms of price, but theres a lot more equipment and a whole lot more off-road tech. Sure, many Grand Cherokee owners may not take their cars off-roading, but if they do, this car is more than capable of handling serious rock climbing. Under the hood sits a 237 bhp 3.0-litre V6 diesel engine mated to an eight-speed automatic transmission. Its incredibly stable at speed too, with a flat ride and a barely audible engine that makes the Grand Cherokee a phenomenal highway cruiser.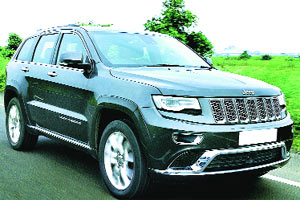 BMW X4
Prices starting from: Rs 40-60 lakh; Engine: 2.0, 3.0-litre diesel
In 2012, one in four BMW vehicles sold was from the X model range. The very sporty BMW X6 has sold over 50,000 units each year since it was launched globally and a strong demand persists. Which explains why BMW has decided to launch a smaller X4, the design of which has been massively inspired by the bigger X6. The X4 gets the same basic silhouette and proportions of the X6 along with other design elements. BMW hasnt revealed the interiors yet but they will probably be shared with other cars in the X range to save on costs. The X4 will be sold with a range of petrol and diesel engines mated to a six-speed manual or eight-speed auto gearbox. The X4 is expected to reach showrooms in 2014.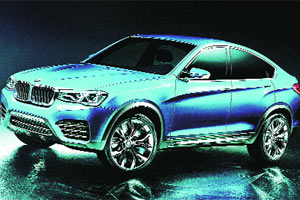 Range Rover Long Wheelbase
Prices starting from: Rs 3 crore; Engine: 5.0-litre petrol, 3.0, 4.4-litre diesel
If the luxurious Range Rover wasnt spacious enough for you, then the long-wheelbase Range Rover most certainly will be. The LWB Rangie has a wheelbase thats stretched by 200 mm. This 5.2-metre-long behemoth will be the most expensive Range Rover yet. The standard body shell has been extended ahead of the rear wheels. The car can be specified to come with a standard rear bench or individual Executive Class rear seats. The rear seats feature 18-way electric adjustment, a massage function and configurable LED mood lighting. This car will come to India, but only in fully loaded Autobiography and Autobiography Black trims.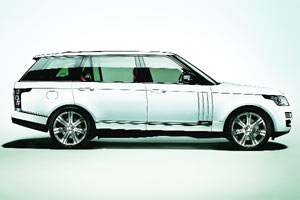 New BMW X5
Prices starting from: Rs 55-75 lakh; Engine: 2.0-litre diesel, 3.0-litre diesel
The original X5 put the sport in sport utility vehicle, so naturally the new X5 builds on the previous cars dynamics. Thats also why the overall shape of the new X5 looks similar to the previous car. The new X5 though is noticeably larger, but thanks to various weight-saving trickery, its lighter than the old car. The interiors have been updated as well. Youll still get the same six-cylinder diesel as before. As seen on the hugely successful Mercedes ML 250 CDI, Indians are happy to opt for a more affordable, more fuel efficient smaller engine, even on a big luxury SUV. So, for the first time in its history, the X5 will be available with the twin-turbo 2.0-litre four-cylinder diesel motor from the 525d.
Mercedes-Benz GLA
Prices starting from: Rs 30-40 lakh; Engine: 1.6-litre petrol, 2.1-litre diesel
The GLA-class is the latest model to make use of Mercedes front-wheel-drive MFA platform. It will be the companys first proper rival to the likes of the Audi Q3 and BMW X1. The front end features perhaps the most modern treatment yet of Mercs new design language, with just two chunky bars of metal on the front grille with a big three-pointed star at its centre. Overall, the GLA looks almost coup-like. The look is more akin to a crossover than the tall, rugged stance of a full-size SUV. The GLA will be powered by modified versions of the engines that power the A-and B-class, meaning a 122 bhp 1.6-litre turbocharged petrol in the base GLA 180 and a 168 bhp 2.1-litre turbo-diesel in the GLA 220 CDI.
Bentley Falcon
Prices starting from: Rs 3 crore; Engine: 4.0-litre, 6.0-litre petrol
In 2013 Bentley announced it would make a super-luxury SUV that would reach showrooms in 2016. Bentley first displayed the EXP 9F concept at the 2012 Geneva Motor Show to gauge market reaction. Convinced that a good number of prospective buyers do exist, the Bentley SUV is now on its way. It will be the first SUV in the world to have a top-end wood, leather and chrome interior. The Bentley Falcon SUV is expected to be powered by the twin-turbo 6.0-litre W12 and 4.0-litre V8 petrol engines.