Bavarian car brand BMW comes next with 7,500 vehicles.
The domestic car industry focused on the everyday runabout may have hit a speed bump, having to rely on sops like the excise duty cuts that were extended by six months recently. However, luxury segment vehicles from the likes of Volkswagens Audi, Daimler, BMW and Jaguar Land Rover are clocking good sales, growing 15-20% annually. In fact, this segment is on track to deliver one of its highest volumes of over 40,000 units this calendar year, a rise of 38% from a year earlier, according to research body IHS Automotive.
Currently, German carmaker Audi leads the pack with sales of 10,050 units in CY13, followed by Daimlers Mercedes-Benz which sold 9,000 vehicles. Bavarian car brand BMW comes next with 7,500 vehicles. Even relative newcomer Jaguar Land Rover managed to sell some 3,200 vehicles from just 20 dealerships.
It may be argued that the target audience in this market is impervious to factors like higher interest rates or the affordability quotient. But what has really kept the sales motor ticking over is the introduction of newer models by manufacturers and ramping up of dealerships. And taking a leaf from FMCG firms, they have been quick to spot untapped opportunity in the affluent in tier 2 and 3 towns, reaching those destinations with variants of entry-level models.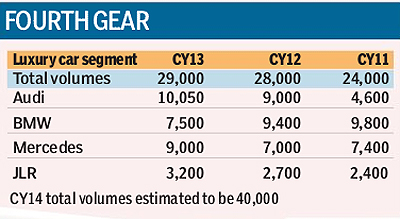 So despite rising import tariffs, Mercedes-Benz sales grew 28.5% in CY13 over the previous year, aided in large part by the success of its entry-level hatchback offering, the A-Class, which currently contributes 2,500 in volumes annually. The company is among the leaders in developing its presence in smaller cities, encouraged, no doubt, by the unprecedented 150-car order placed on it by a bunch of businessmen in Aurangabad some years ago. The carmaker has got the pedal to the metal in its attempt to regain the top slot it relinquished in 2009.
We are well represented in the market with our dealership presence. Even then we are looking at expanding our dealership in tier 2 cities and debut in at least 12 new smaller cities including Bhopal, Calicut, Baroda, Mohali, Lucknow and others in 2014, said Boris Fitz, vice-president, sales and network development, Mercedes-Benz India.
Tier 2 cities will bring us incremental volumes. In the past key metros delivered 50% of our total volumes, now smaller cities Bhubaneswar, for instance are generating higher volumes. Naturally, we are looking to ramp up in such places, he added. India is a key market for our growth strategy and we are in line with our expectations. We are already looking to double capacity at our Chakan (Pune) facility to 20,000 vehicles in a year.
Mercedes-Benz currently has 64 dealership spread in 36 cities. Rival Audi currently has about 36 showrooms which it aims to take to 40 by the year end. BMW aims to bump up its dealership numbers to 50 by the end of the year from 35 now.
BMW India witnessed an unprecedented price war from its competition for market share of the Indian luxury car segment. But we have made our price decisions with due care and consideration. They will pay off in the long run and lead to a win-win situation, said Philipp von Sahr, president, BMW Group India.
We want to increase our sales volume but not at any price. We dont want to be number one in discounts. Unlike our competition, we will not venture into the Indian luxury market with discounted cars, he said.
A combination of factors including newer models, stabilisation of the currency and locally-produced and assembled cars will give a boost to volumes, said Puneet Gupta, associate director, IHS Automotive.
Every manufacturer in this segment has its own strength and strategy to grow. Mercedes, for instance, has a large dealership presence. In addition, they have brought in entry-level luxury cars to woo first-time buyers. Audi has the Volkswagen engineering behind it and BMW draws only consumers who give the brand a first priority, Gupta said.