Ford India recorded a loss of Rs 420 crore in the year which took its accumulated losses till date to Rs 1,764 crore.
The accumulated losses for the India units of US-based car makers Ford and General Motors have together crossed Rs 4,500 crore despite around two decades of operation in what is today considered the worlds sixth-largest auto market.
The two companies, who are among the top five globally, are finding it tough to compete with the larger domestic automobile players such as Maruti Suzuki India, Mahindra & Mahindra Ltd and Hyundai, all of whom have seen profits improve in the past few years.
In 2013 fiscal, General Motors India recorded a Rs 1,142 crore loss, according to filings with the Registrar of Companies, taking its accumulated losses till date to Rs 2,740 crore.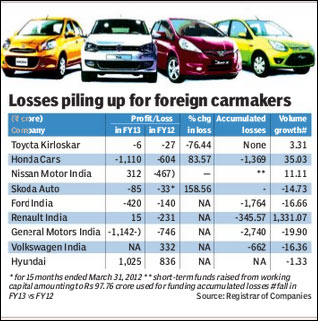 The company attributed the decline partially due to the unavailability of Tavera during the first quarter of 2013
fiscal and phasing out of the aging UVA and Aveo brands from the growing Mini B2 and Small markets.
Similarly, Ford India recorded a loss of Rs 420 crore in the year which took its accumulated losses till date to Rs 1,764 crore.
Overall, foreign carmakers together have accumulated losses of about R6,500 crore in India, as reported by FE in its edition dated November 18, 2013. The losses, which have increased due to the demand slowdown of the last two years, is largely because of the increased investments by companies in expanding domestic production capacity in order to get the economies of scale to compete aggressively with Maruti, Hyundai and Mahindra, who together have around 65% share of Indias 27 lakh unit passenger vehicle market.
Honda also recorded Rs 1,110 crore losses in 2013 fiscal, widening its accumulated losses to Rs 1,369 crore, while Toyota had a smaller R6 crore loss in the fiscal. According to experts, most carmakers who have made huge investments in capacity are still companies looking to reap benefits of it.
In comparison, the larger players fared far better. South Korean multinational Hyundai Motors Indian subsidiary is on a roll with 23% increase in net profits to R1,025 crore in 2013 fiscal.
Maruti Suzuki India saw 2013 fiscal profits rise 41% at Rs 2,300 crore, while Mahindra & Mahindra posted a 16.5% jump at Rs 3,353 crore.
Renault-Nissan has also bounced back in 2013 fiscal with its export-led business strategy showing results in 2013 fiscal, Nissan exported over 70% of its production, while Renault has also started exporting the Duster to right-hand drive markets like the United Kingdom.
Overall, the Indian automobile Industry grew 2.61% in 2013 fiscal. Automobile sales were down by more than 6% in 2013 fiscal compared with the previous year.
Also check:
* Live: BSE Sensex