Following a slowing momentum in the equity market over the last one month, the two major groups of institutional investors have changed their market positions in April.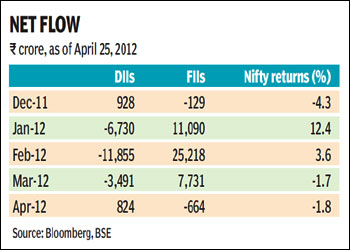 For the first time in four months, the domestic institutional investors (DIIs) have turned net buyers of Indian stocks, while foreign institutional investors (FIIs) have sold their holdings of Indian equities on net basis for the month. The Nifty has declined 1.8% month to date, similar to its 1.7% fall in March.
According to the latest data available, DIIs, which include domestic financial institutions, mutual funds, and insurers, have brought shares worth R824 crore or $159 million in the first three weeks of April, against R664 crore or $117 million worth of equities sold by FIIs.
For the first time in 2012, both DIIs and FIIs have obtained such market positions for the month. However, on a year-to-date basis, they continue to be net sellers and net buyers of Indian stocks, worth $4.2 billion and $8.75 billion, in that order. Market observers believe that at current level, the Indian market continues to trade near its long-term average valuations, which adds confidence among the DIIs to nibble into some value stocks.
The benchmark index is trading at 13 times its forward one-year earnings, which is a good entry point for DIIs, given that the historical average earning multiple for the Sensex is 14 to 15 times, said Andrew Holland of Ambit Capital.
While the dominance of the FII inflows in driving the Indian equity market is unquestionable, the buying activity by DIIs appears to have lent a much-needed cushion from a free fall.
Another trader pointed out that even as the market ( Nifty) has in the recent past come off quite strongly, it has largely maintained a range of 5,200-5,400 during the last one month despite factoring in a number of global as well as domestic negatives, including the resurfacing sovereign debt concerns in Europe, election in France, the state of liquidity in the banking system, besides the persistent macro challenges for India.
If the Nifty manages to sustain above its 200 DMA ( day moving average), currently positioned near 5,130, for a fourth time in the last seven weeks , there could be another rebound towards 5,300-5,350, he added.