Malaysia said Tuesday that it has narrowed the search for downed Malaysia Airlines Flight MH 370 plane to an area the size of Alaska in the southern Indian Ocean, while Australia said improved weather would allow the hunt for possible debris from the plane to resume.
The comments from Defense Minister Hishammuddin Hussein came a day after the country's prime minister announced that a new analysis of satellite data confirmed the Malaysia Airlines plane had crashed in a remote part of the southern Indian Ocean, killing all 239 aboard.
But the searchers will face a daunting task of combing a vast expanse of choppy seas for suspected remnants of the Malaysia Airlines MH370 aircraft sighted earlier.
We're not searching for a needle in a haystack - we're still trying to define where the haystack is,'' Australia's deputy defense chief, Air Marshal Mark Binskin, told reporters at a military base in Perth, Australia, as idled planes stood behind him.
There had been two corridors to search for the Malaysia Airlines plane - based on rough satellite data - for the search. Hishammuddin said operations had been halted in the northern corridor that swept up from Malaysia toward Central Asia, as well as in the northern section of the southern corridor that arches down from Malaysia toward Antarctica.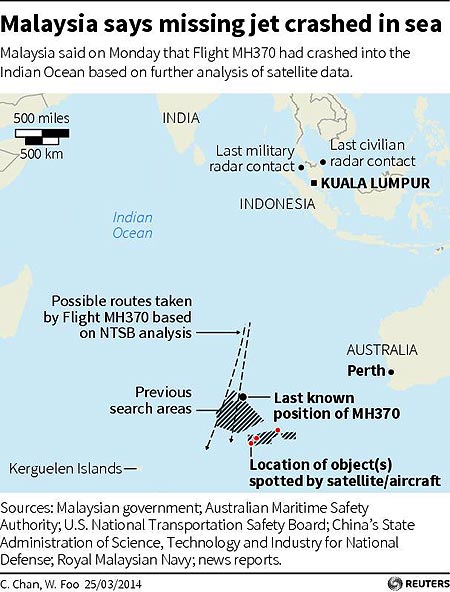 Doomed Malaysia Airlines Flight MH 370 final 'ping' at 0019 GMT
Satellite data that confirmed Malaysia Airlines Flight MH370 plane missing for more than two weeks crashed in the Indian Ocean included a final electronic signal that is still being investigated, Malaysian acting Transport Minister Hishammuddin Hussein said on Tuesday.
"There is evidence of a partial handshake between the aircraft and ground station at 0019 UTC (GMT)," Hishammuddin told a news conference. "At this time, this transmission is not understood and is subject to further ongoing work."
Prime Minister Najib Razak said on Sunday that groundbreaking satellite-data analysis by the British company Inmarsat had revealed that Malaysia Airlines Flight MH370, which vanished while flying to Beijing from Kuala Lumpur on March 8, had crashed thousands of miles away in the southern Indian Ocean.
Preliminary analysis of the satellite "pings" had only been able to place the plane's final position in one of two vast arcs stretching from the Caspian Sea to the southern Indian Ocean.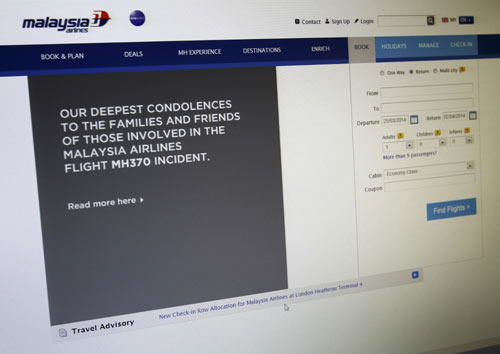 A sympathy message is displayed at the webpage of the Malaysia Airlines website, in Shah Alam, outside Kuala Lumpur, Malaysia, Tuesday, March 25, 2014. It was the grim news that families of the missing Malaysian Airlines flight had dreaded for weeks, and on Monday they heard it from Malaysias prime minister: new analysis of satellite data indicates the missing plane crashed into a remote corner of the Indian Ocean. (AP)
Furious kin clash with police in China, seek truth about plane
Over 300 angry relatives of Chinese passengers aboard the Malaysian airliner today clashed with security personnel outside Malaysia's embassy here as China demanded the truth about the jet's mysterious crash.
In a rare show of public anger in China, grief-stricken families and friends marched on the embassy to protest the way investigation into tracing the Malaysia Airlines Flight MH370 - carrying 239 people, 154 of whom were Chinese - was handled.
According to eyewitnesses, protesters threw water bottles and demanded to meet the ambassador as they tried to storm the building.
Earlier, the relatives - some in tears - linked arms and marched peacefully holding placards and chanting "Malaysian government has cheated us" and "Malaysia, return our relatives".
Clashes broke out when security personnel tried to resist attempts by some relatives from approaching reporters outside the embassy.
They shouted, "return our relatives and "the Malaysian government are murderers".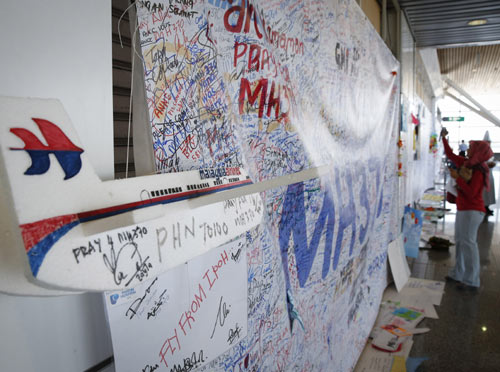 A model plane of MH370 on display at well wish board for passengers aboard a missing Malaysia Airlines plane at Kuala Lumpur International Airport in Sepang, Malaysia, Tuesday, March 25, 2014. China demanded Tuesday that Malaysia turn over satellite data used to conclude that a Malaysia Airlines passenger jet was lost in the southern Indian Ocean with no survivors during a flight to Beijing.(AP)
China's Xi Jinping ratchets up pressure on authorities over Malaysian Airlines jet
Chinese President Xi Jinping will send a special envoy to Kuala Lumpur to consult with the Malaysian government over the missing Malaysia Airlines MH370 plane, state news agency Xinhua said on Tuesday.
Xinhua said Xi "has ordered to send a special envoy to Kuala Lumpur". It did not name the envoy.
In a separate statement, Chinese Premier Li Keqiang said China will ask Malaysia to provide more detailed and accurate information on the Malaysia Airlines plane, according to a government microblog account.
Li said the most important task at present is to search for the missing plane and he expressed sympathy to the family members.
Also read: 'Nauseating' Srinivasan must step down as BCCI chief, says enraged Supreme Court
Also read: Srinivasan now targetted by Bishen Singh Bedi, Mohinder Amarnath, others over IPL spot-fixing scandal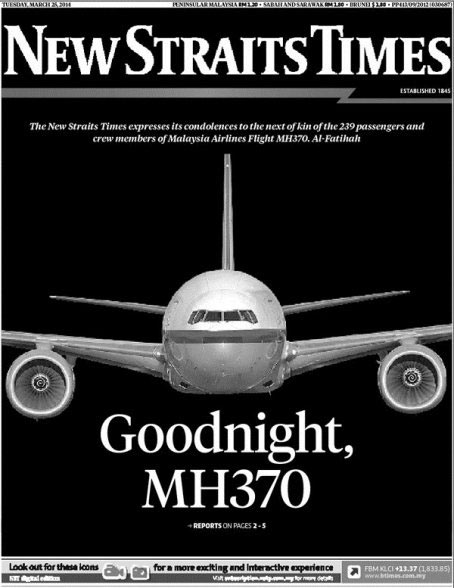 The New Straits Times' darkened front page showed an aircraft above the words "Goodnight, MH370" -- a reference to the last message from the cockpit, "All right, good night", before the Malaysia Airlines jet lost contact on March 8.
What Malaysia Airlines is doing for MH370 families<
Malaysia Airlines says it is providing comprehensive support for the families of the 239 people aboard Flight 370.
FOOD AND LODGING: Hotel, transportation, meals and other expenses have been provided for up to five family members per passenger since the flight disappeared March 8, and the airline intends to continue the support as long as families require it.
FINANCIAL HELP: The airline provided US$5,000 per passenger to the next of kin initially and will offer more payments as the search for the jetliner continues.
ROUND-THE-CLOCK CARE: It has assigned more than 700 caregivers - including two per family - to offer support and counseling to families on a 24-hour basis.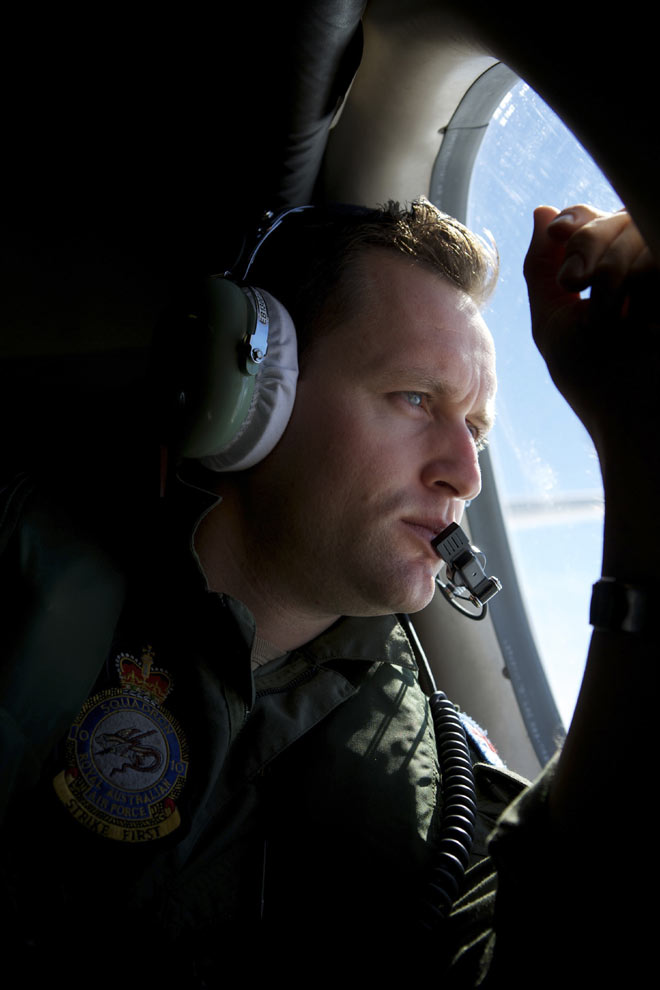 A crewman of an RAAF AP-3C Orion aircraft looking out his observation window whilst searching for missing Malaysia Airways Flight MH370 Monday, March 24, 2014. The search is being conducted in an area 2,500km off the South West coast of Perth after the Malaysian Airways aircraft went missing on 8th March 2014 whilst on a flight between Kuala Lumpur and Beijing. (AP)