Even 19 days after Malaysia Airlines MH370 plane disappeared into thin air, authorities and search and rescue people are left clutching at straws to explain the terrible tragedy and bring closure to the relatives of 239 people aboard who have been left wailing in a sea of uncertainty.
With rescue operations being fielded in terms of planes, ships and satellites, no credible clues have been found. In fact, a French satellite scanning the Indian Ocean for remnants of the missing jetliner found what it described as possible plane debris field containing 122 objects, which a top Malaysian official termed as the most credible lead that we have. But after that, there has been no news and hours and days are passing fast, with the window open to finding the plane closing fast.
Also read: FBI says review of Malaysia Airlines jet computer files almost done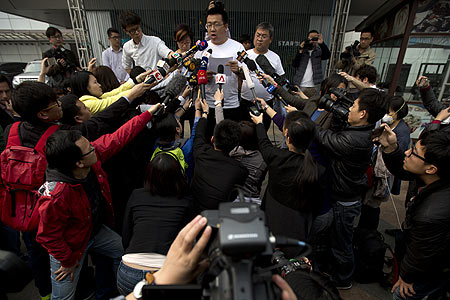 A representative of relatives of Chinese passengers on board Malaysia Airlines Flight 370, center, makes an announcement to journalists prior to a briefing with Malaysian officials at a hotel in Beijing. (AP)
Various floating objects have been spotted in the area by planes and satellites over the last week, including on Wednesday, when the Australian Maritime Safety Authority said three more objects were seen. The authority said two objects seen from a civil aircraft appeared to be rope, and that a New Zealand military plane spotted a blue object. Unsurprisingly, the rescue operation has been dubbed the most complex, the most difficult in aviation history.
However, till today, no really solid piece of evidence has emerged as none of the objects were seen on a second pass, a frustration that has been repeated several times in the hunt for Malaysia Airlines Flight 370.
According to the experts, The weather in this part of the world is far more difficult than that experienced in the search for (Air France) 447.''
He said huge swells were common, particularly during the southern hemisphere's upcoming winter. There's a real urgency to find something as quickly as possible because through the winter months, they'll probably have to suspend the search.
And worse is yet to come.
Australia's Bureau of Meteorology warned that the weather is expected to deteriorate again Thursday, with thunderstorms, low clouds and strong winds on the way.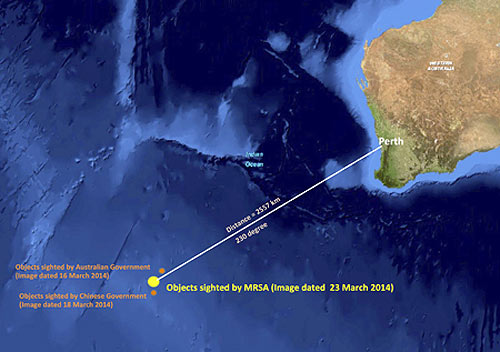 Graphic released by the Malaysian Remote Sensing Agency shows the approximate position of objects seen floating in the southern Indian Ocean in the search zone for the missing Malaysia Airlines flight MH370. (AP)
MH370 plane in row as angry Defense Minister Hishammuddin Hussein berates China, relatives
At a hotel banquet room in Beijing on Wednesday, a delegation of Malaysian government and airline officials explained what they knew to relatives of those lost onboard the Malaysian Airlines MH370 plane. They were met with skepticism and even ridicule by some of the roughly 100 people in audience, who questioned some of the report's findings, including how investigators could have concluded the direction and speed of Flight MH370. One man later said he wanted to pummel everyone in the Malaysian delegation.
Defense Minister Hishammuddin Hussein expressed exasperation with the anger rising among missing passengers' relatives in China, who berated Malaysian government and airline officials earlier in the day in Beijing.
About two-thirds of the missing are Chinese, but Hishammuddin pointedly said that Chinese families must also understand that we in Malaysia also lost our loved ones'' as did so many other nations.
Also Read: Relatives skeptical of missing Malaysia Airlines MH370 probe
Planes, ships chase new leads in search for Malaysia Airlines jet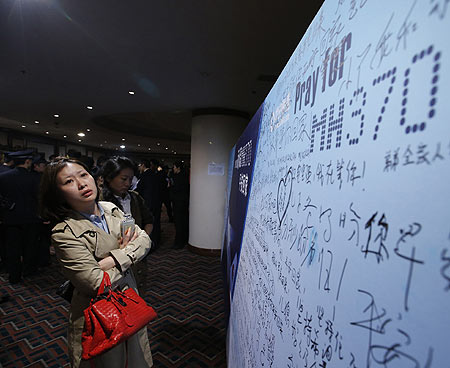 New satellite images have revealed more than 100 objects in the southern Indian Ocean that could be debris from a Malaysian jetliner missing for 18 days with 239 people on board, Malaysia's acting transport minister said.
"Time will heal emotions that are running high. We fully understand," Hishammuddin said in Kuala Lumpur.
"I have seen some images coming from Australia, very rational. (They) understand that this is a global effort. Not blaming directly on Malaysia, because we are coordinating something that is unprecedented."
But one of the main complaints from families - mixed messages from Malaysia - continued Wednesday. Two days after Malaysian Prime Minister Najib Razak said there were no survivors, Hishammuddin allowed for the possibility that some people aboard the plane might still be alive.
"If (the debris) is confirmed to be from MH370, then we can move on to deep sea surveillance search and rescue, hopefully, hoping against hope," he said.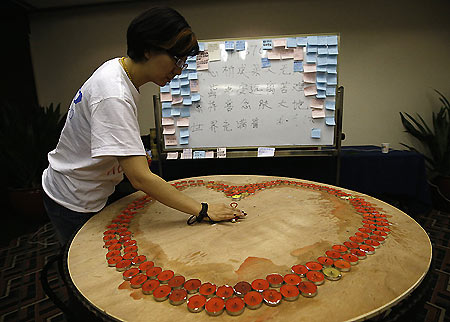 A relative of a passenger aboard Malaysia Airlines flight MH370 puts a decoration inside a ring of candles, which were arranged to form a heart, to wish for the return of the passengers in Beijing.
Furious relatives of passengers say Malaysia Airlines MH370 plane probe is a 'lie'
The PowerPoint presentation wasn't enough. The analysis by British investigators that Malaysia Airlines Flight 370 was lost at sea wasn't enough. The relatives of Chinese passengers gathered in a hotel banquet hall on Wednesday were still skeptical - and hostile.
It's all lies. Not a shred of truth! said a man who identified himself as Mr. Zhang from the Chinese city of Harbin. He said afterward that he had wanted to pummel everyone giving the presentation - a delegation of Malaysian government and airline officials.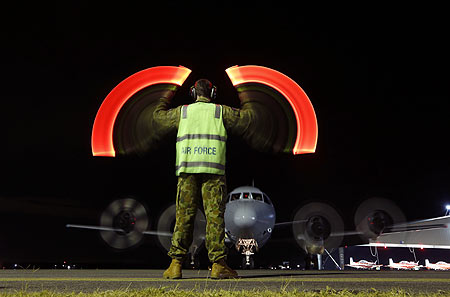 A Royal Australian Air Force AP-3C Orion returns to RAAF base Pearce from a search for Malaysian Airlines flight MH370 over the southern Indian Ocean. (Reuters)
Malaysia Airlines MH370 plane finally 'found', 122 objects sighted in Indian Ocean
New satellite images have identified 122 objects, potentially from the missing Malaysia Airlines Flight MH 370, in the Indian Ocean, a Malaysian minister said today.
"It must be emphasized that we cannot tell whether the potential objects are from MH370," Malaysia's acting transport minister Hishammuddin Hussein told a news conference. "Nevertheless, this is another new lead that will help direct the search operation."
Also Read: * US law firm plans to bring suit against Boeing, Malaysia Airlines
The images were captured by France-based Airbus Defence & Space on Monday and showed 122 potential objects in a 400 sq km (155 sq mile) area of ocean. The objects varied in size from one metre to 23 metres (75 ft) in length. Some of the objects are bright and up to 23 metre long. They were located about 2,500 kilometers from Perth. (Read full story)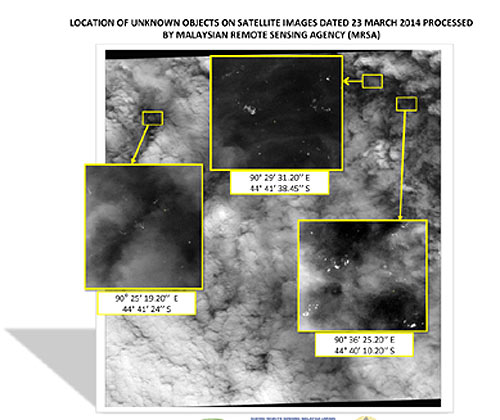 Graphic released by the Malaysian Remote Sensing Agency March 26, 2014, shows satellite imagery taken on March 23, 2014, with the approximate positions of objects seen floating in the southern Indian Ocean in the search zone for the missing Malaysia Airlines Flight 370. (AP)
Malaysia Airlines MH370 jet debris hunt steps up, black box detectors arrive
US equipment designed to detect black box signals arrived in Australia on Wednesday, as searchers stepped up efforts to find some trace of a Malaysian Airlines MH370 plane thought to have crashed 18 days ago thousands of miles off course in the Indian Ocean.
A dozen aircraft from Australia, the United States, New Zealand, China, Japan and South Korea were once more scouring the seas some 2,500 km (1,550 miles) southwest of Perth in the hunt for wreckage, after bad weather on Tuesday forced the suspension of the search.
"The crash zone is as close to nowhere as it's possible to be but it's closer to Australia than anywhere else," Australian Prime Minister Tony Abbott said, before leading the country's parliament in a moment's silence.
"A considerable amount of debris has been sighted in the area where the flight was last recorded. Bad weather and inaccessibility has so far prevented any of it from being recovered. But we are confident that it will be."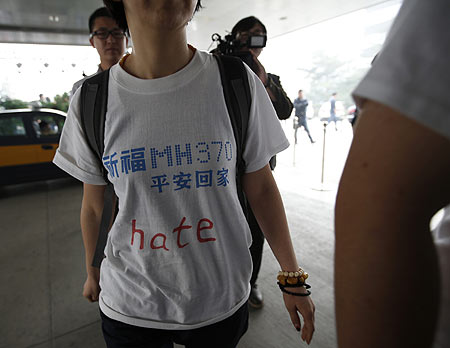 HIGHLIGHTS
* Early flights returning from search area; no objects seen - AMSA
* Chinese relatives clash with Beijing police, slam Malaysia
* Equipment for black box search arrives in Perth
China special envoy urges 'unremitting efforts' over Malaysia Airlines MH370 plane
China's special envoy to Malaysia, Zhang Yesui, called on Wednesday for "unremitting efforts" over the missing Malaysia Airlines plane, state news agency Xinhua said.
Zhang, who is also China's vice foreign minister, met Malaysian Prime Minister Najib Razak earlier in the day, according to Xinhua.
On Tuesday, Chinese President Xi Jinping sent Zhang to consult with the Malaysian government over the missing plane, Xinhua said.
Search for Malaysia Airlines Flight MH370 intensifies
An intense search is underway in the southern Indian Ocean for signs of debris from the Malaysia Airlines Boeing 777 that crashed into the sea after it went missing on March 8. Here's a list of the countries taking part and what they have sent to help the search overseen by Australia from a military base near the southwestern city of Perth.
AUSTRALIA
Four military P-3 Orion planes; four civilian planes; the navy supply ship HMAS Success.
CHINA
Two Ilyushin IL-76 planes; the polar supply ship Snow Dragon; the warships Kunlunshan, Haikou and Qiandaohu.
JAPAN
Two military P-3 Orion planes.
NEW ZEALAND
One military P-3 Orion plane; one civilian plane.
UNITED STATES:
One military P-8 Poseidon plane.
SOUTH KOREA:
One military P-3 Orion plane.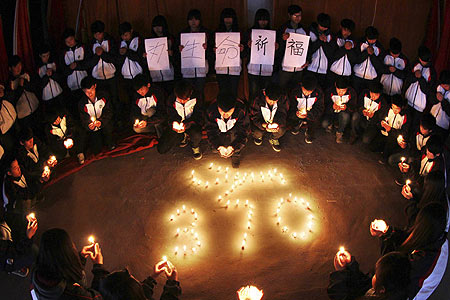 Malaysia Airlines Flight MH370 hunt resumes as seas subside and hopes rise
The desperate, multinational hunt for Flight 370 resumed again Wednesday across a remote stretch of the Indian Ocean after fierce winds and high waves that had forced a daylong halt eased considerably.
A total of 12 planes and two ships from the United States, China, Japan, South Korea, Australia and New Zealand were participating in the search, hoping to find even a single piece of the Malaysia Airlines jet that could offer tangible evidence of a crash.
Malaysia announced earlier this week that a mathematical analysis of the final known satellite signals from the plane had proved beyond doubt it gone down in the sea, taking the lives of all 239 people on board.
The new data vastly reduced the search zone, but it remains huge - an area estimated at 1.6 million square kilometers (622,000 square miles), about the size of Alaska.
Also read: Details of last contact of Malaysia Airlines Flight 370 released
''We're throwing everything we have at this search,'' Australian Prime Minister Tony Abbott told Nine Network television on Wednesday.
''This is about the most inaccessible spot imaginable. It's thousands of kilometers from anywhere,'' he later told Seven Network television. He vowed that ''we will do what we can to solve this riddle.''
In Beijing, some families held out a glimmer of hope their loved ones might somehow have survived. About two-thirds of the missing are Chinese, and their relatives have lashed out at Malaysia for essentially declaring their family members dead without any physical evidence of the plane's remains. Many also believe that the Malaysian officials have not been transparent or swift in communicating information with them about the status of the search.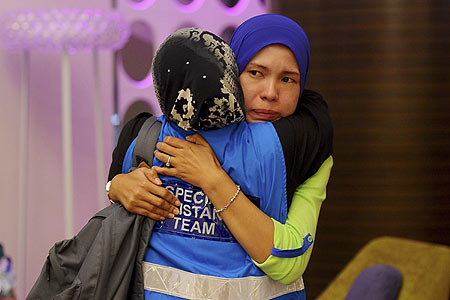 Wang Chunjiang, whose brother was on the plane, said he felt ''very conflicted.''
''We want to know the truth, but we are afraid the debris of the plane should be found,'' he said while waiting at a hotel near the Beijing airport for a meeting with Malaysian officials. ''If they find debris, then our last hope would be dashed. We will not have even the slightest hope.''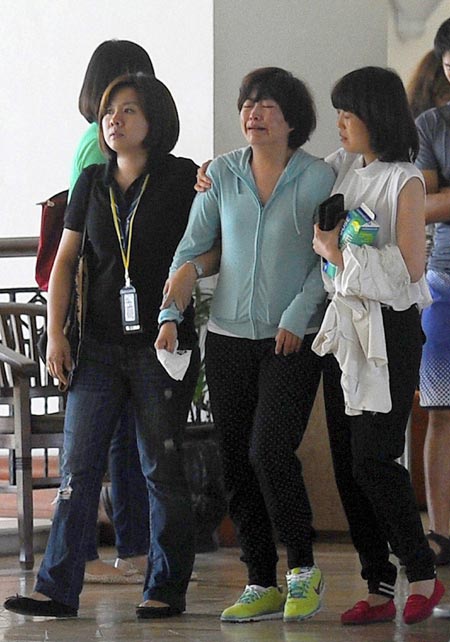 In China's capital a day earlier, nearly 100 relatives and their supporters marched to the Malaysian Embassy, where they threw plastic water bottles, tried to rush the gate, shouting, ''Tell the truth! Return our relatives!''
Wary of virulently nationalistic public opinion, China's government has sought to defend the interests of family members, calling in Malaysia's ambassador Monday to demand access to the technical data that determined the plane crashed into the sea west of Australia.
That was likely the reason why authorities permitted Tuesday's rare protest outside the Malaysian Embassy, in which they briefly tussled with police who kept them separated from a swarm of journalists.
China dispatched a special envoy to Kuala Lumpur, Vice Foreign Minister Zhang Yesui, who was expected to meet Malaysian Prime Minister Najib Razak and other top officials Wednesday.
Deputy Foreign Minister Xie Hangsheng has said China wants to know details about the complex analysis of satellite data by foreign experts indicated the flight had plunged into a remote corner of the Indian Ocean, far from any landing strip.
The conclusions were based on an analysis of the brief signals the plane sent every hour to a satellite belonging to Inmarsat, a British company, even after other communication systems on the jetliner shut down for unknown reasons.
The plane's bizarre disappearance March 8 shortly after it took off from Kuala Lumpur en route to Beijing has proven to be one of the biggest mysteries in aviation.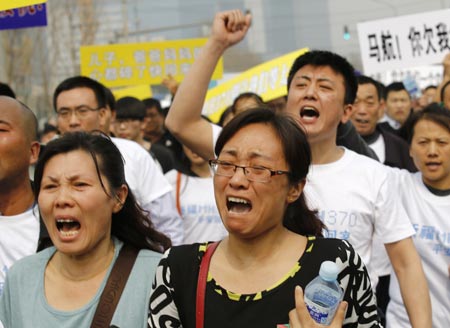 Investigators will be looking at various possibilities, including mechanical or electrical failure, hijacking, sabotage, terrorism or issues related to the mental health of the pilots or someone else on board.
The search for the wreckage and the plane's flight data and cockpit voice recorders could take years. It took two years to find the black box from an Air France jet that went down in the Atlantic Ocean on a flight from Rio de Janeiro to Paris in 2009, and searchers knew within days where the crash site was.
There is a race against the clock to find Flight 370's black boxes, whose battery-powered ''pinger'' could stop sending signals within two weeks. The batteries are designed to last at least a month.
David Ferreira, an oceanographer at the University of Reading in Britain, said little is known about the detailed topography of the seabed where the plane is believed to have crashed.
''We know much more about the surface of the moon than we do about the ocean floor in that part of the Indian Ocean,'' Ferreira said.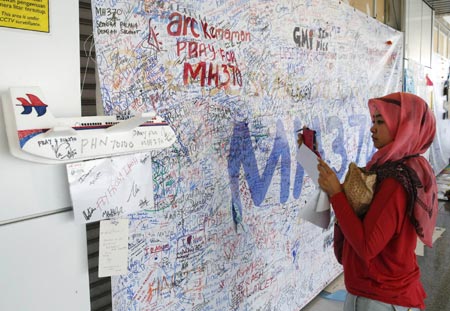 Kerry Sieh, the director of the Earth Observatory of Singapore, said the seafloor in the search area is relative flat, with dips and crevices similar to that the part of the Atlantic Ocean where the Air France wreckage was found.
He said he wouldn't expect much current on the seafloor, and believes any large pieces of the plane would likely stay put once they have completely sunk. But recovering any part of the plane will be a challenge because of the sheer depth of the ocean - much of it between 3,000-4,000 meters (9,800-13,000 feet) in the search area - and inhospitable conditions on the surface where intense winds and high swells are common.
''This is a really rough piece of ocean, which is going to be a terrific issue,'' Sieh said. ''I worry that people carrying out the rescue mission are going to get into trouble.''
The Australian Maritime Safety Authority, which is coordinating the southern search operation Malaysia's behalf, said the focus Wednesday will be on an 80,000 square kilometer (31,000 square miles) swathe of ocean. Ships and aircraft are looking for possible debris that has drifted from the suspected crash zone. The area is about 2,000 kilometers (1,240 miles) southwest of Perth.
Various pieces of floating objects have been spotted by planes and satellite, but none have been retrieved or identified.
Australia's Bureau of Meteorology warned that weather was expected to deteriorate again Thursday with a cold front passing through the search area that bring rain thunderstorms, low clouds and strong winds. (With agency inputs)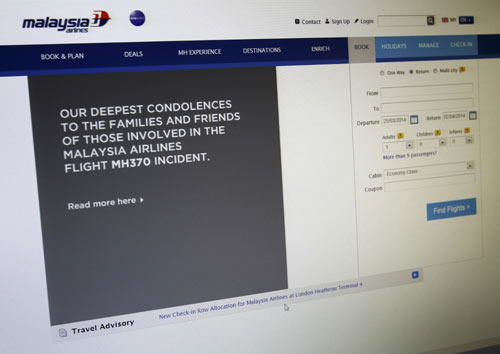 A sympathy message is displayed at the webpage of the Malaysia Airlines website, in Shah Alam, outside Kuala Lumpur, Malaysia, Tuesday, March 25, 2014. It was the grim news that families of the missing Malaysian Airlines flight had dreaded for weeks, and on Monday they heard it from Malaysias prime minister: new analysis of satellite data indicates the missing plane crashed into a remote corner of the Indian Ocean. (AP)