Kerala has the country?s highest per capita consumption of liquor, 8.3 litres a year.
New policy aims at liquor-free Kerala, high-consumption state where liquor is a key driver of the economy. A look at the business, the policy and the implications
Keralas Congress-led government has taken up a new liquor policy, ratified Wednesday, which aims at making the state liquor-free in a decade. Certain areas remain undecided, such as what happens to beer and wine parlours and clubs that serve alcohol, but the immediate, most crucial aspect of the policy is a decision to close down all bars in hotels with a rating below five stars. It is a move that has been challenged in court.
It comes in a state that has the countrys highest per capita consumption of liquor, 8.3 litres a year. On the flip side has been a series of reports of alcohol-related crimes, often within families, and health issues. Limits on bar hours and blocking of liquor licences for retail outlets and certain bar hotels having failed to end these problems, state Congress president V M Sudheeran has led the liquor-free-state campaign, which culminated in the policy.
the Business and the politics
The IMFL business has thrived in Kerala for decades, starting before it became a state in 1956. The real boost, however, came in 1996 when the state government banned country arrack. From 411 bar hotels then paying an annual licence fee of Rs 10 lakh each, the industry began to grow alongside tourism, with the annual fee reaching Rs 23 lakh last year.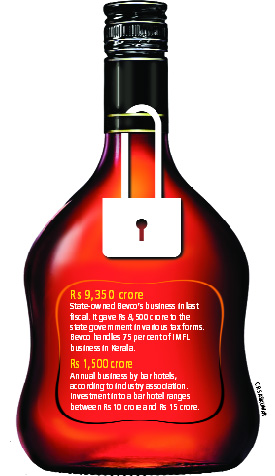 Kerala has 753 licensed bars, of which 418 have remained shut since April, while 312 will be shut on September 12 as a result of the new policy. The licences of seven other bar hotels are pending in court that case does not relate to the newest policy while five-star hotels have the remaining 16 licences, the only ones that will survive after September 12.
The decision to close down all other bars has arisen out of an old debate over the evolving standards of bar hotels. Under the first set of norms set in 1956, liquor licences were given to quality restaurants that served a non-Kerala menu and had at least three rooms. In 1980, the Left government stipulated that a hotel seeking a liquor licence should have a restaurant and 10 rooms; in 1985-86, the Congress government gave bar hotels a two-star rating.
The matter of bar hotels being substandard first came up in a 2007 report of the excise department, which recommended that the licences of poor-quality hotels need not be renewed. The then government, however, regularised all licences considering that the 418 bars deemed substandard had been given sanction at various periods based on the then prevailing norms.
In 2011, the present government introduced a liquor policy that said fresh licences would be given to three-star hotels only up to March 2012, and to four-star hotels only up to March 2013. This set the stage for battle, with a group of three- and four-star hotel owners moving the Supreme Court. In March this year, the court said the government cannot deny liquor licences to four-star and higher-rated hotels until it takes a final decision on the 418 substandard hotels. The government dragged its feet over a decision, creating divisions within the Congress and finally leading to the decision to shut down all but a handful of bars.
Court cases
Two cases are pending in the Kerala High Court. One is by a group of bar hotels from among the 418 not granted a licence renewal. Acting on their petition, the division bench had ordered the government to examine the standards of all shut bar hotels and submit a liquor policy. The case comes up next on September 18.
The second case, pending before a single-judge bench of the high court, was moved by another group of bar owners challenging the state governments latest policy.
Policy for toddy
The policy does not ban toddy, tapped from coconut, and whose liquor content is below that of beer. Kerala has 5,900 toddy shops, which are annually auctioned. Those who bid and win often run more than one shop in their respective areas. For want of enough tappers and coconut farmers reluctance to give up their trees for toddy, several shops are selling spurious liquor. One outlets business can range between 50 and 350 litres, depending on the season. The new policy says toddy tapping, a traditional profession, will be protected. However, the number of shops will be restricted depending on the availability of coconut trees and tappers.
IMFL outlets
The state has 384 retail outlets selling IMFL, wine and beer, all opened between 1996 and 2011. Of these, 338 are owned by Kerala State Beverages Corporation (Bevco) and the rest by Consumerfed, both government ventures. Bevco supplies liquor to all bar hotels in Kerala.
Following the new liquor policy, the number of outlets will go down by 10 per cent every year. To start with, 39 outlets will be shut this Gandhi Jayanti.
Every Sunday will be a dry day, apart from the existing dry day on the first day of every month.
Alcohol content too will be brought down. Besides, one per cent of Bevcos income will be set aside to create awareness against alcohol. A Kerala alcohol education research rehabilitation and compensation fund will be formed to help alcoholics and address their problems.
Elite Clubs
Kerala has 33 elite clubs with a licence to serve liquor, besides 121 hotels, clubs and houseboats with an exclusive beer/wine licence. The new liquor policy has not specified what happens to these, though the government has raised the annual licence fee of beer parlours from Rs 4 lakh to Rs 5 lakh. Bar hotels are already serving beer, but to get an exclusive beer parlour license they will have to make a fresh application after their liquor licence is revoked.