The effect will be felt on fresh booking volumes as well. Reuters
A slowing economy, job-loss fears and political uncertainty seem to have taken the fizz out of the real estate market. The festive season for real estate developers is most likely to be dull this year. With a number of new project launches expected to fall by as much as 13% across the country on a year-on-year basis, the effect will be felt on fresh booking volumes as well. While developers are offering deals to attract buyers, their success may be limited due to the bearish customer sentiment.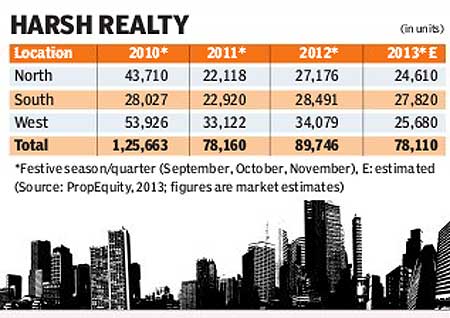 Based on data sourced from PropEquity, a Delhi-based analytics and research firm, project launches in the festive period of October-November are expected to fall by a steep 24% in the western region to around 25,700 units from 34,000-odd units last year. In the north, the fall is expected to be less steep at 9%, while the southern market may see a 2% fall in unit launches from the festive months of last year.
Traditionally, these months see better sales compared to the first five months of the financial year, as they are considered auspicious for buying property. During the festival season of 2012, while the launches jumped 10-15% over rest of the year, sales were up almost 30%. However, this year, no fireworks are expected.
Accounting for the weak general economic scenario, we estimate the festive quarter this year to record an increase of around 5-10% over the previous two quarters. It is also unlikely that the absorption numbers in 2013 would be able to match the previous years benchmark of 30% increase in absorption during the festival season, PropEquity founder & CEO Samir Jasuja said.
Initial market estimates suggest that the absorptions may increase by just around 5-10%. The developers are still trying to pep up customers: While some are offering upfront discounts on booking of apartments, others are trying to woo buyers with gold coins, white goods, waiving off stamp duty and registration charges, etc.
Projects left with inventory are expected to see more such trends. Mantri Developers, for example, is offering 100-gm gold coins or a discount of up to R5 lakh to customers booking an apartment till Diwali in its Mantri Serene project in Mumbai.
Of the 120 apartments in the project, the company has sold around 60% flats, while the remaining 40% are six to nine months away from possession.
Mantri is running a similar scheme in its projects in Bangalore and in tier-II and III cities of Solapur, Pune and Gwalior.
Most customers are preferring discounts over gold coins, says Vishal Makhija, general manager, Mantri Realty.
Mumbai-based RNA Corp also has a unique offer under which the builder is promising the customer that if in 2016, a buyer feels that the property rate is not appreciating, he could contact RNA and the company will buy back the apartment for R3,000 extra per square foot, compared to what the customer paid in 2013. The offer is on till November 2, and will be valid for the first 100 customers who give a cheque of R5 lakh to book an apartment in its RNA Exotica project in western suburbs of Mumbai.
The cheque is fully refundable in case the buyer decides not to go ahead with the purchase by November 2013, or is not in the first-100 list. We have not lowered the prices but, keeping in mind growing customer apprehensions regarding appreciation of property, we felt this was a good way of gaining their confidence, says Surjit Singh, president (marketing), RNA Corp.
Delhi-based KV Developers, on the other hand, is offering free car parking, free club membership, etc, in its KVD WindPark in Greater Noida. Residential sales have picked up only marginally in NCR region over the last three quarters. Against this backdrop, developers will use all means to cash in on the festive season, says Santhosh Kumar, CEO (operations), Jones Lang LaSalle India.
Given the slowdown, Jasuja of PropEquity says that 2013 could be a year of much better deals. However, how successful all these attempts will be, only time will tell.