Lava QPAD e704 is priced at Rs 9,999.
Whenever we think about tablets, the first devices that come to our mind are either the Apple or Samsung slates. Walk into any gadgets shop, chances are our gaze will be fixated to these not-so-affordable portable computers; even the salesperson will fill you in with all the attractive features of these work and entertainment gadgets. Of course, there are hordes of offerings from other playersMNC as well as homegrownbut it so happens that most often, we come back home empty-handed, without making any purchase. Essentially because we are confusedAndroid-powered devices might look different in appearance, but they work in a similar pattern. Also, we are not confident of putting our money on something we are not so sure ofwhether we want to use the tablet as a productivity machine or as an entertainment device, or perhaps both.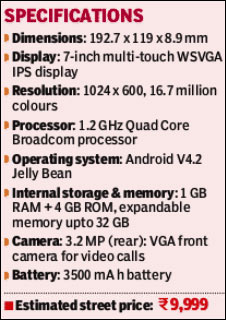 Lava International, a fast-growing mobile handset company, seems to have the answers to some of our queries. It has come up with the QPAD e704, priced at a decent level of R10k. It is a 7-inch high definition dual-SIM tablet and supports voice-calling functionality, its CPU is BCM23550, Quad Core, clocked at 1.2 GHz; it is based on the dated Android 4.2 operation system; theres no word on the software update. More on its specifications later.
An important thing to note is that the QPAD e704 is a perfect device not only for young professionals, but also for the enterprise segment. Small and medium enterprises can arm their employees with this powerful tablet with latest features at a very low cost. By virtue of its fast processor, better graphics, IPS display and longer battery, QPAD e704 can be perfect replacement for those bulky notebook computers used for presentations, demo videos, catalogues, and enterprise specific applications.
Unlike Apples closed system of hardware and software, the open-source nature of Googles Android operating system makes it inviting for many tablet makers to try their hand at making an Android-based device. That said, its a system that has been slow to bear fruit when it comes to viable competitors to the Apple iPad, but that seems to be slowly changing. Thanks to its decent performance and affordable price, the e704 is the Android tablet to get. Let me give out the reasons here.
At 280 grams, the e704 is one of the lightest tablets, and with a 8.9 mm width when held in portrait orientation, its probably the easiest to fit in one hand. Once in the hand, it will fit with a fair amount of grip and its corners are pleasantly rounded. Along the sides are the easy-to-find power button and volume rocker, and there are two SIM card slots. A front-facing camera sits on the top bezel in the centre, and the rear camera rests behind on the backside. Also on the back are two sets of speaker grilles, both on the bottom and adjacent to each other.
The e704 is designed with various functions, including 2G, 3G, Wi-Fi, Bluetooth, GPS, FM, voice call and so on. It is easy to achieve wireless communication and internet, you have access to surf the internet anytime and anywhere using 3G; it is also built with high accuracy Glonass assisted GPS module, so that it can be used for navigation.
In terms of software, the tablet ships with the Android Jelly Bean 4.2, and to be quite honest, there are many devices in the market with this OS. It is armed with the new 1.2 GHz Quad Core Broadcom BCM23550 processor with Videocore IV@430MHz and full HD 1080P video playback. The device is powered by a massive 3500mAh battery; this tablet offers as much as 300 hours of standby, 10 hours of talk time and over 6 hours of video displays.
In terms of performance, the e704s screen is incredibly sharp and the text is particularly fine and easy to read. You may not fully appreciate its high pixel density immediately, but when looking at it next to almost any other tablet screen, the e704 clearly comes out on top. It is also one of the brightest tablet displays I have ever seen. I browsed several videos from YouTube and each time colours are more accurate and fuller compared with other tablets in its price bracket. Even the contrast ratio is noticeably higher, viewing angles are wide and images appear to have a fuller, more corporeal integrity.
The screen responds immediately to touches and apps whiz by as fast as you can swipe them. Switching between different apps quickly and scrolling through webpages is smooth and zippy. Wi-Fi speeds were consistently high with no spotty connection issues. The dual speakers are above average quality for a tablet. However, over the course of several hours I experienced a few hangs, an unresponsive screen, and heating up of the slate. These problems were fixed by switching off the device for a few minutes.
All in all, the e704s sharp screen, fast performance, and affordable price catapult it to the top of the small-tablet heap. Ideal for first-time buyers!