The BSE Sensex advanced 376.95 points or 1.51% to settle at 25,396.46 on Friday.
Benchmark equity indices rose to yet another record high, with 1.5% gains on Friday and near 5% gains for the week the best weekly performance since the week ended May 16 led by metal, capital goods and energy stocks.
Oil & Natural Gas Corporation (ONGC), the countrys largest explorer, soared to a record and Reliance Industries (RIL), owner of the worlds largest refining complex, jumped the most in two weeks on optimism Prime Minister Narendra Modi will agree to raise natural gas prices by the end of this month.
The move is in keeping with the December 2012 recommendations of the Rangarajan committee. Based on the formula, gas prices will be raised to $8.50-9 per mmBtu range.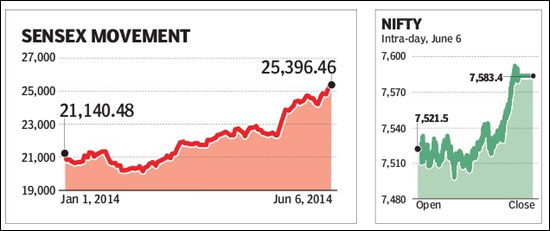 Natural-gas supplier GAIL India (GAIL) rallied the most since May 2009, sending an index of energy stocks to a six-year high. BSE Oil & Gas index settled 11987.67, up 550.98 points or 4.82%.
The Sensex advanced 376.95 points or 1.51% to settle at 25,396.46, exceeding the previous intraday record of 25,375.63 reached on May 16 after Modis Bharatiya Janata Party won the strongest electoral mandate in three decades. The Nifty also closed at a new high of 7,583.40, up 109.30 or 1.46%.
Broader markets continued to see buying interest, with the BSE Mid-Cap and Small-Cap indices ending up 1.5% each. Market breadth was strong with 24 out of 30 Sensex companies ending positive. Overall, 2,143 stocks advanced as against 972 stocks that ended in the red, exchange data showed.
With Friday's gains, Indian equities continue to top the list of best performing markets in the world. Nifty has given year-to-date returns of 20.3%, followed by Indonesia (15.5%), Italy (17%), Thailand (12.3%) and Spain (11.5%), Bloomberg data showed.
Foreign institutional investors (FIIs) were net buyers for the sixth consecutive session. Overseas funds purchased shares worth $216 million in the cash segment on Friday, showed provisional data from stock exchanges. Foreigners have bought a net $8.71 billion of local shares this year, the most among eight Asian markets tracked by Bloomberg.
Data show that 85% of the flows have come in during the March-May period on expectations a new and stable government will boost efforts to revive economic growth which dropped to a decade low.
Rupee rose the most in two weeks after the European Central Bank cut its benchmark interest rates to unprecedented lows, spurring speculation the move will spur demand for emerging-market assets.
The ECB lowered the deposit rate to minus 0.1% on Thursday and reduced the refinancing rate by 10 basis points to 0.15%. The MSCI Asia Pacific Index of shares rose to the highest level in more than seven months. Back home, nine out of 11 sectoral indices ended positive on Friday. BSE Realty and BSE Oil & Gas indices were top performers with 4.5-5.5% gains. However, metal and energy shares were in limelight this week driven by positive economic data and expectations of reforms measures by the new government.
Metal stocks rose about 15% in the last five trading sessions as Odisha state allowed eight iron-ore mines to reopen after the Supreme Courts order.
Energy stocks gained 10.5% this week, bloomberg data showed.