Khushwant Singh touched so many lives in more ways than one: Sadia Dehlvi. (In picture: Rahul Singh) AP
Writer-journalist Sadia Dehlvi was attending a calligraphy exhibition in Delhi when Khushwant Singh walked up to her and asked, How are you so beautiful If she was thrown off by his impetuous question, Dehlvi didnt show it. Instead, she confidently replied, Well, because I am a beautiful person. Khushwant Singh responded almost immediately: Tomorrow, my house, 7 oclock. That was 30 years ago; today Dehlvi is thoughtful while talking about her best friend and confidant who passed away on Thursday morning. Khushwant Singh touched so many lives in more ways than one be it through his writing, helping people find jobs, reading manuscripts of young authors and journalists and editing those as if they were his own, among others, she says.
Photos: Grand old man of Indian literature, Khushwant Singh, dies at 99
Khushwant Singhs editor, Ravi Singh, first at Penguin and now at Aleph, couldnt agree more. The light has gone out. His (Sujan Singh Park) home was a place of refuge for so many people who needed help or just wanted to talk. Those with a sense of humour also have a sense of compassion. Khushwant gave his best to people, and they, in turn, became their best with him, says Ravi.
Ravi began working with Khushwant Singh while the latter was writing The Company of Women, published by Penguin in 1999. He favoured short sentences, didnt use big words and never wrote a convoluted sentence. He was the most versatile writer in India, he straddled both the literary as well as the popular fiction genre, he says.
At home, Ravi remembers a man who was full of mischief, but never malice. Khushwant Singh liked the image hed cultivated of a curmudgeonly old man, but he was very child-like. He grew to become my favourite person, says Ravi. Every year on his birthday, Singh received a bouquet of flowers from the Prime Ministers wife, Gursharan Kaur, and delighted in pointing them out to his visitors. His friends remember a man who loved gossip but wasnt petty with people, a man who could not abide anger and rudeness, a disciplined writer who woke up every morning at 5 to write. Khushwant always said that his greatest joy was receiving letters from readers, especially the abusive ones, says Ravi.
The 99-year-old writer-historian was also famous for his 8 oclock cut-off hour. Writer Bhaichand Patel speaks fondly of his former editor at The Illustrated Weekly of India, and his neighbour who would call him over for a chat. Youd have to go over at seven, and hed kick you out at eight, says Patel. Bottoms up and bugger off, chuckles Ravi and remembers that if dinner was being served, hed allow his guests to stay till nine. Khushwant Singh wouldnt go to a party if you didnt serve dinner at eight, says Patel, who also credits Singh with encouraging him to write his first work of fiction, Mothers, Lovers and Other Strangers in 2013. He was my mentor for over 40 years, says Patel. I wouldnt have been a writer without him, says Dehlvi.
Khushwant Singh was never afraid to live and write. He wasnt afraid to die either, he wrote about it before. He would have approved of the way he left, he didnt want to suffer the indignity of nurses wiping his bottom, says Ravi. His death is not to be mourned, Khushwant Singh had a full life, says Patel. But Dehlvi remembers the last words he said to her. A few weeks ago, he said Jaldi ayiyega, pata nahi kab chala jaun. And I just looked at him and held his hand; it was always reassuring to do that; and feel that he is not going anywhere.
Live: BSE Sensex
Comparison: Maruti Suzuki Celerio vs Alto
Also read: Search for missing Malaysia Airlines Flight MH370 resumes in remote southern Indian Ocean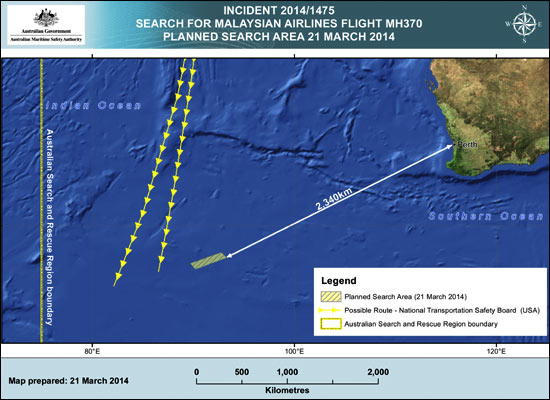 A graphic provided by Australian Maritime Safety Authority shows an area in the southern Indian Ocean that the AMSA is concentrating its search for the missing Malaysia Airlines Flight MH370. (AP).