Ginger production is likely to increase substantially as good returns have prompted Kerala farmers to lease more land for its cultivation in Karnataka. Returns from the crop have more than doubled in the last one year and more and more entrepreneurs are looking at it as a lucrative option.
Currently, Coorg in Karnataka is leading in ginger cultivation followed by Hasan and other neighbouring districts.
Ginger prices are currently at a higher level and almost double the level traded a year back. Shortage in China and lesser imports from Nepal has created a supply crunch in market where demand is seen growing at a healthy pace.
Volume of fresh ginger transported to North India has increased dramatically, a trader from Wayanad said.
Demand has also gone up due to entry of big retailers and refrigeration facilities.
Currently, dry ginger is trading above Rs 200 per kg and has even touched Rs 240 for the premium grade.
Ginger is quoted above $5,000 per tonne in the global market and closely followed by China.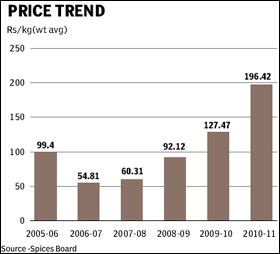 Anand Kishore of Kishore Spices feels the market would cool after December when the new crop arrives in the market. It is reported that production would be good. Arrival pressure would ease the market, he added.
Arrivals from Shimoga, Coorg and Wayanad would be good compared to the previous season, KS Mohanan, a leading trader from Wayanad told FE.
He said Kerala farmers have invested substantially in ginger cultivation in Karnataka and production would be definitely higher. Farmers from Kerala ventured into the neighbouring Karnataka from 2003 in huge numbers to reap a windfall. Earlier when prices tumbled, many suffered huge losses and farming areas dropped considerably. Now, they are back in business, he said.
Ginger prices during 2011 will mainly depend on the Chinese production, which has been very short in the last two years. Earlier China sold ginger at half the Indian price capturing most of the domestic exports market. India produces 2.75 lakh tonne of ginger per annum, almost a third of the worlds production of 8.35 lakh tonne. The major consuming nations are the US, UK, Japan and Saudi Arabia.