Initiatives for using technology from both an efficiency point of view and a growth point of view are something that we are witnessing and that is driving opportunities.
N chandrasekharan CEO & MD, TCS
Tata Consultancy Services (TCS), the countrys largest information technology (IT) exporter has kept its focus on the simple things remaining close to customers to help them enhance efficiency and managing costs and operations optimally. No wonder the company was able to report better than expected results for the third quarter ended December 31, 2011 with a net profit (India GAAP) of Rs 2,370 crore, up 29.9% from Rs 1,823.9 crore in the same quarter last year. Revenue for the quarter grew 26.3% to Rs 9,663 crore from Rs 7,648.5 crore in the same quarter last year. Besides, it added 35 new clients in the quarter. The company services more than 800 clients globally including British Airways, Motorola and Sony.
Sharp focus on our strategy with rigorous execution discipline has helped us capture volumes, defend our margins and deliver another stellar quarter... the demand environment continues to be strong. Growth was led by the developed markets like the United States and Europe with strong contributions from Asia Pacific and Middle East and Africa, said TCS CEO and MD N Chandrasekaran.
The company has managed costs without compromising on the investments as a result of which its off-shore revenues rose to 51% from 44.2 % in the previous year. The deal closures have been solid and they have come in different sizes, across verticals and across markets.
From an industry perspective, the business recovery was led by the banking and financial services industry with retail, energy and utilities, life sciences playing a supporting role. By the year end, the firm had begun seeing signs of recovery in other sectors like telecom, hi-tech and manufacturing.
Whether it is a market where there is an economic uncertainty or not, initiatives for using technology from both an efficiency point of view and a growth point of view are something that we are witnessing and that is driving opportunities, Chandrasekaran added. In fact, during the quarter, TCS was granted 3 patents. It had applied for 413 patents of which it was granted 67. With operations in over 42 countries, TCS strong growth was led by the UK and Asia-Pacific along with the US, West Asia and Africa. It has 20 directly-held and 37 indirectly-held subsidiaries.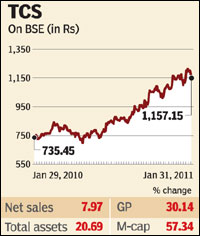 On the hiring front, TCS again upped its hiring targets, representing that growth was back. The company said it will hire 12,00015,000 employees during the fourth quarter. It added 20,219 people (gross) during the quarter, its highest addition yet, taking the total headcount to above 1.86 lakh at the end of the December quarter.
However, the company saw lesser growth in India and Latin America has declined due to the mix of discretionary projects and annuity projects but the discretionary spend is expected to be better in 2011 compared to 2010.
The company has a five pronged strategy for growth. First, strong focus on the customer enabled by a customer-centric organisation with domain capabilities besides offering integrated services. At the end of 2009-10, over 25% of the companys revenues came from new services like BPO, infrastructure, assurance and asset leveraged solutions, reflecting the effectiveness of this strategy.