Jet fuel or ATF price was today cut by 4 per cent and rates of non-subsidised cooking gas (LPG) by Rs 100 per cylinder. Reuters
Jet fuel or ATF price was today cut by 4 per cent and rates of non-subsidised cooking gas (LPG) by Rs 100 per cylinder, reflecting global trends.
Aviation Turbine Fuel, or ATF, price at Delhi was cut by Rs 3,025.34 per kilolitre, or 4 per cent, to Rs 71,800.21 per kl, according to Indian Oil Corp, the nation's largest fuel retailer.
The rate cut follows a Rs 753.34 per kl hike in rates last month.
Price was cut as international oil prices fell and rupee appreciated against the US dollar, making imports cheaper.
In Mumbai, jet fuel costs Rs 74,105.16 per kl as against Rs 77,322.6 per kl previously, IOC said. Rates at different airports vary because of difference in local sales tax or VAT.
Also read:
Raghuram Rajan's RBI keeps interest rates on hold, inks status quo for bank loan EMIs
BSE Sensex hits new record high even as Raghuram Rajan's RBI bats for status quo on repo rates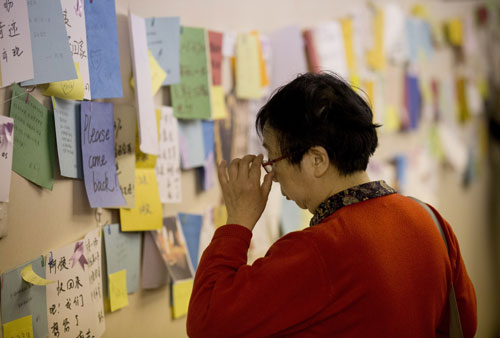 A woman, one of the relatives of Chinese passengers aboard the missing Malaysia Airlines flight MH370, looks at the papers with writings for wishes for the passengers onboard the missing plane at a hotel in Beijing, China Australia deployed Tuesday an airborne traffic controller over the Indian Ocean to prevent a mid-air collision among the many aircraft searching for the Malaysia Airlines jetliner that went missing over three weeks ago.(AP)
Jet fuel constitutes over 40 per cent of an airline's operating costs and the price cut will reduce the fuel cost of the cash-strapped carriers.
No immediate comments were available from the airlines on the impact of the price cut on passenger fares.
Separately, the price of non-subsidised cooking gas (LPG), which customers buy after using up their quota of 12 subsidised cylinders, was cut by Rs 100 per cylinder, the third straight reduction in rates since February.
The 14.2-kg cooking gas cylinder that consumers buy beyond their entitled 12 bottles at subsidised rates, will now cost Rs 980.50, down from Rs 1,080.50, in Delhi.
The rates were on February 1 cut by Rs 107 -- from Rs 1,241 per cylinder to Rs 1,134, and then by Rs 53.5 per cylinder last month.
A subsidised LPG cylinder in Delhi costs Rs 414. Non-domestic LPG rates were at the beginning of the year hiked by a steep Rs 220 per cylinder but have now been cut in line with softening of international rates.
IOC said losses on LPG have come down to Rs 505.50 per 14.2-kg subsidised cylinder from Rs 605.50 in previous month and Rs 656 in February. The loss was Rs 762.50 in January.
The three fuel retailers -- IOC, Hindustan Petroleum Corp Ltd (HPCL) and Bharat Petroleum Corp Ltd (BPCL) -- revise jet fuel and non-domestic LPG prices on the first of every month, based on the average international price in the preceding month.