JBL Authentics L16, priced at Rs 74,990, blends classic acoustic speaker designs and advanced wireless technology.
We love everything that is wireless these days, dont we Be it our mobile phones, laptops, tablets or even cameras, we want wireless connectivity in each one of them in order to have fast transfer of our contentdata, voice or video. In particular, we want wireless sound in our music playing devices, as we dont want to be plugging our phone or MP3 into a speaker every time we want to listen to our favourite songs. Thats why I was looking forward to get my hands on the JBL Authentics L16 speaker, which promises to deliver room rocking sound. It works with virtually any device, features digital music enhancing technology and streams audio at studio quality.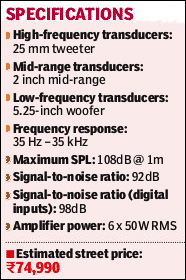 In the box, youll get one JBL Authentics L16 speaker system, a removable speaker grille, one region-specific IEC power cord and a much-needed quick start guide. Out of the box, the new JBL speaker will remind you of the now-forgotten radio sets of the 60s and 70s in wooden enclosures. I still remember our Grundig radio on which we used to listen to Hindi songs aired by Radio Ceylon, as well as cricket commentaries involving India and other cricket playing nations.
Back to present. The JBL L16 is a league in its own. Inspired by the legendary JBL Century L100 loudspeaker, the L16 blends classic acoustic speaker designs and advanced wireless technology. It features a walnut-veneer case with six 50W amplifiers and speakers delivering three-way sound. Its 300 watts of energising music can easily fill the room, without wires or complex speaker configurations.
Probing the innards, the L16 features AirPlay, DLNA, NFC and Bluetooth connectivity meaning youll have a tough time finding a reasonably modern device that cant play through these speakers. It provides easy wireless audio playback from the latest and best in wireless devices. It offers AirPlay for iTunes and iOS devices, DLNA for Android devices and Windows PCs and Bluetooth connectivityincluding instant Bluetooth pairing with near field communication (NFC) technology. The speaker also has two USB ports, one for charging phones, the other for charging tablets.
In tech parlance, the L16 supports studio quality streaming of 24-bit/96kHz audio, compared to the 16-bit/44.1kHz CD quality that a lot of systems max out at. This is ideal for people streaming music from their high-end mobile phones and laptops. The speaker automatically switches streaming formats as needed, simplifying use with all your devices. For those who still have a large CD or vinyl collection, you can connect your CD player or turntable to the L16 via the optical or RCA phono inputs for a truly authentic experience.
The L16 speaker also uses Harman Clari-Fi technology which is supposed to restore details lost in the compression of musical files. This can be modified via the free JBL Music app for mobiles and tabletsthough how or what that means exactly isnt made clear. JBL says: Harman Clari-Fi technology replaces the details lost in todays compressed music files, adding detail and energy to any low quality music stream. Few are aware but a lot of todays music is compressed, to enable for fast and efficient streaming, however, when compressed, you lose the detail in the music.
In order to test out the Clari-Fi offering, I played some songs of KL Saigal and Talat Mahmood and believe me, this technology made the music sound amazing; some of the musical instruments that we normally do not hear in conventional systems sounded crystal clear and exact on this JBL system.
Let me talk about the speakers real-time use. Streaming music from my mobile phone, laptop and a tablet, the sound quality was absolutely fantastic. The bass was powerful and heavy, but it didnt dominate the sound. Theres a free JBL MusicFlow app lets you easily control the speaker with iOS or Android mobile
devices, and even charge compatible mobile devices on the speakers built-in USB ports. One criticism, this JBL creation is is just that bit too big to be really portable, but is perfect for keeping in the house; however, you cannot carry it around from room to room listening to your music.
My takeaways: Its one of the most powerful speakers youll ever own, and the sound quality is really impressive. Wherever you play it, expect applause!