After Ranbaxy Laboratories acquisition by Japans second largest pharmaceutical company, Daiichi Sankyo Ltd, in June last year, its now the turn of Japans largest pharma company, Takeda Pharmaceutical Company Ltd, to scout for opportunities in India. The $15.6-billion (FY08 sales) Takeda is looking for an India presence and has appointed Shankar Suryanarayanan, a veteran operations management executive, as head of its India operations.
Suryanarayanan, who worked with blue chip organisations like Roche, Novartis, Monitor Group and Emerson Electric, is now based out of Takedas Illinois office, but is in the process of setting up an India team. He is combing the countrys pharma landscape for opportunities to partner with large Indian pharma firms. According to industry sources, the company is also likely to pick up a minority stake in an Indian pharma company.
Seiji Ota, a partner with BMR Associates and an expert on Japanese investments in India, says the success of Daiichi Sankyos Ranbaxy buy, after the initial hiccups, will motivate Japanese pharma firms to explore the Indian terrain further. Daiichi Sankyo had to write down $3.84 billion in valuation loss on Ranbaxy acquisition. The Ranbaxy shares fell by a half on the Indian bourses by January this year after the US blocked imports of its drugs. Also, a weak rupee led to a Rs 352-crore loss to Ranbaxy during Q3, 2008.
However, the company saw a turnaround and posted a net profit of Rs 186 crore for Q3, 2009. Ranbaxys shares touched a 52-week high of Rs 471 on the Bombay Stock Exchange on Tuesday, before closing at Rs 469.10.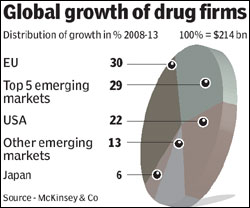 Large and medium companies like Dr Reddys, Piramal Healthcare and Aurobindo have been open to partnerships with MNCs. In March this year, Pfizer entered into an agreement with Aurobindo Pharma to market drugs that are no longer patent protected and dont have market exclusivity in the US and Europe. Piramal has a drug discovery and development tie-up with Eli Lilly. Sarabjit kaur Nangra, vice-president-research with Angel Broking, said, Emerging markets are growing faster than the traditional markets. Inducting strategic partners will help Indian companies bolster revenues and give more product visibility.
Japanese pharma companies cannot ignore India if they need to grow. Here, its not only the generic manufacturing capabilities and marketing muscle of Indian companies that become attractive. According to Ota, the traditional investment markets for Japanese firms, like the US and later China, are no longer the hot favourites. The other options are getting into Vietnam, Russia, Brazil and India, and of these, India offers the maximum potential, with its big market and high GDP growth, says Ota. A McKinsey study says the Indian pharmaceutical market would touch $20 billion by 2015.
Takeda would be the fourth Japanese pharma company to have a presence in India, after Daiichi Sankyo, Eisai Co and Astellas. Eisai operates an Indian subsidiary, Eisai Pharmaceuticals India Pvt Ltd, while Astellas opened a liaison office in India in 2007. Takeda, which had products in various therapeutic segments like allergy, cardiovascular, central nervous system, diabetes and gynecology, markets them in 90 countries. Yasuchika Hasegawa, president, Takeda, had on Monday said in Tokyo that the company would go in for acquisitions to help it enter the generic drug business in emerging markets.