In this report, we derive cues for the India IT services sector by looking at macro-economic demand indicators and the financial performance of key client industry segments. We also review how stocks, currencies and valuation have moved. Key observations:
Positive demand indicators: The US has continued to underperform for tier-1 IT (the US has grown at 11%, vs 13% aggregate and 20% Europe growth over LTMlast twelve months), however, we think macro indicators in the US suggest a possible acceleration from Q2FY15F (forecast) onwards as:
(i) demand should start to reflect recent PMI (Purchase Managers Index) improvement (from 50 to 55), as IT services demand typically lags PMI by two to three quarters; (ii) US consumer and CEO confidence show a steady trend; and (iii) job additions are seeing a strong recovery (four months in a row of 200k+ additions) while jobless claims and the unemployment rate continue to decline.
While most industries in the US are seeing growth in operating income, the pickup in revenue growth is not broad-based yet. BFS (banking and financial services) retail and oil & gas seem to still have some issues. Typically, broad-based client financial improvement is reflected in improvement in IT services demand with a two-to-three quarters lag.
Nomura economists expect the US economy to rebound from Q2 onwards, with GDP growth may remain steady at 3% (annualised) for the rest of the year, post the fall in Q1 due to weather and inventory correction. UK GDP will grow by 2.9% in 2014 (vs 1.7% in 2013) while Euro area GDP will grow by 1% in 2014 (vs -0.4% in 2013).
Tier-1 IT revenue growth should bottom out in Q1 and improve thereon: Tier-1 IT aggregate revenue growth has shown some moderation over the past two quarters to 13.5% y-o-y in Q4FY14 (from 15.5%). We expect y-o-y growth to bottom out in Q1 and improve progressively thereon.
Valuations attractive post under-performance: The IT sector has under-performed the Nifty by 26% YTD. Post this under-performance, valuations for tier-1 IT are in line with historical averages and at par with the market (vs historical premium of 20%), which we believe is attractive.
Remain overweight; top BuysHCLT, TCS and TechM: We are overweight on the IT services sector on: (i) the continuation of the strong growth momentum in IMS(infrastructure management services)/BPO/Europe; (ii) macro improvements in the US translating to better US demand from Q2 onwards; and (iii) attractive valuations (post 26% under-performance) given EPS CAGR of 14% over FY14-16F for tier-1 IT.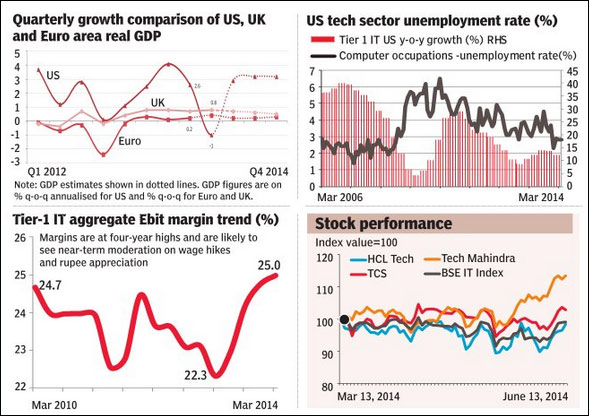 We prefer companies where we see higher revenue predictability and higher positive surprise potential. In that light, HCLT, TCS and TechM are our top Buys among India listed names.
Nomura