Unable to raise the targeted R8,886 crore, Indian Railways Finance Corp (IRFC) extended the sale of its tax-free bonds by over a week to February 8. The state-backed company, which raises funds to solely finance the expenditure of Indian Railways, has raised R2,438 crore so far. IRFC had pegged the issue at R1,000 crore with an option to retain up to R8,886 crore.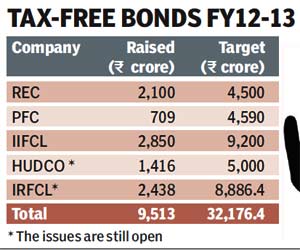 While companies have bought around 50% of the issue, the response from retail and high net worth individuals has been dull, merchant bankers said. Vedantas subsidiary Cairn India was the highest contributor with an investment of R500 crore. L&T Finance has invested R300 crore, while ICICI Bank has put in R250 crore and Indiabulls Real Estate and Sidbi about R200 crore each.
Meanwhile, Housing and Urban Development Corp (Hudco), which had also extended its sale of bonds by a week to February 1, has raised R1,416 crore so far. The company had pegged the issue at R750 crore with the option to retain up to R5,000 crore. The company has attracted more retail and high net worth investors than other companies since being a lower rated paper it was able to offer 12-13 basis points more on the coupon than the rest.
So far, not a single company has been able to raise the target amount by issuing tax-free bonds. India Infrastructure Finance Company (IIFCL) raised R2,850 crore, the highest amount picked up among all the five issuances so far, as it was able to attract private and public sector banks. However, IIFCL too fell short of its target to raise R9,200 crore. Rural Electrification Corp (REC), whose bond issuance opened in December, raised about R2,100 crore, less than half its target of R4,500 crore. Meanwhile, Power Finance Corps (PFC) bonds fared worst as even after extending the sale of bonds by a week it was undersubscribed and was able to raise just about R709 crore.
Merchant bankers said these bonds were a major success in the last financial year, but with the coupons being offered lower, the appetite is smaller. Moreover, the additional 50 basis points that retail buyers are entitled to is not available if the bonds are traded in the secondary market. There was no such restriction last year.