However, experts hold a positive view on the sector after the diesel price hike. (Reuters)
Oil companies have lost over Rs 58,000 crore of market wealth since June 5, when the Islamic State in Iraq and Syria (ISIS) launched its attack on Iraq. The prices of Brent crude has surged nearly 5% since then. The Brent crude is currently trading at $113.83 per barrel.
Reliance Industries (RIL)and ONGC have together lost Rs 45,550 crore of their market wealth during this period. Other losers include Indian Oil Corporation (Rs 7,587 crore), Hindustan Petroleum Corporation Ltd (HPCL) (Rs 1,320 crore), Bharat Petroleum (Rs 3,380 crore) and Oil India (Rs 435 crore).
However, experts hold a positive view on the sector after the diesel price hike. The price hike has reaffirmed our positive stance on diesel reforms and we expect the new government to continue with the same. Sustained high oil prices and INR depreciation had scuttled the benefits of 2013 price hikes. However, with both these factors stabilising, we expect the under-recovery to reduce at a rapid pace. We estimate under-recovery to fall by 38% from FY14 level of Rs 1.4 trillion (Rs 1.4 lakh crore) to Rs 881 billion (R88,100 crore) in FY16E, said Motilal Oswal Financial Services in a report.
Oil prices may continue to remain under pressure for some more time. On Wednesday, as per a Reuters report, ISIS militants attacked one of Iraq's largest air bases as the first US teams arrived to assess the Iraqi security forces. Meanwhile, government troops and ISIS militants continued to fight over the Baiji oil refinery in Iraq.
Experts feel the impact on the prices of Brent crude could remain muted as long as government forces are able to keep the ISIS forces away from southern Iraq.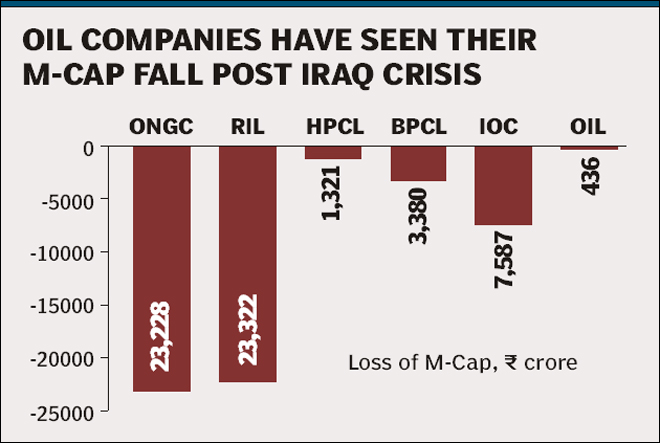 The major oil capacities are in southern Iraq. ISIS is yet to make inroads in southern Iraq. We see the crude prices moving $3-4 upwards from here. However, the crisis could inflame further with Iran and Saudi Arabia getting involved, said Vinay Khattar, head (research), Edelweiss Financial Services.