George Bailey of the Kings X1 Punjab and Yuvraj Singh of the Royal Challengers Bangalore shake after an IPL 7 match in Dubai. (PTI)
Blame it on the Lok Sabha election or the non-stop controversies, the viewership of the Indian Premier League (IPL) has dipped considerably in the seventh season. While SET MAX, the official broadcaster for the IPL, has not disclosed the numbers and the viewership measurement agency TAM Media Research stopped making public any viewerhip data, the Financial Express has sourced the viewership numbers from TAM subscribers and media agencies.
A quick analysis of the data reveals the IPL viewership is down over 10% over last year. Even the viewers interest has gone down this season with the first match generating the maximum viewership and the subsequent matches witnessing a constant decline.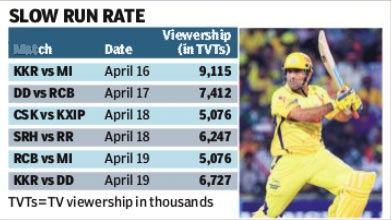 According to the data, the first six matches of the IPL garnered 6,545 TVTs (TV viewership in thousands). While the opening match between Kolkata Knight Riders (KKR) and Mumbai Indians (MI) on April 16 scored around 9,115 TVTs, the second match on April 17 between Delhi Daredevils (DD) and Royal Challengers Bangalore (RCB) generated 7,412 TVTs. The third between Chennai Super Kings and Kings XI Punjab and the fourth match between Sunrisers Hyderabad and Rajasthan Royals, both on April 18, garnered TVTs of 5,076 and 6,247, respectively. The fifth match between RCB and MI scored 4,692 TVTs and the sixth match between KKR and DD scored 6,727 TVTs. Both these matches were held on April 19. These numbers clearly indicate there has been a general fall in viewership interest after the inaugural match.
If one studies the viewership trend of the tourney for the first six matches since its inaugural season (7,108 TVTs in 2008), it is clear the viewership rose through 2009 (7,186 TVTs), 2010 (8,954 TVTs) and 2011 (9,138 TVTs). However, since 2012, the viewership of at least the first six matches began taking a hit as it fell from 8,127 TVTs that year to 7,343 TVTs in 2013 and 6,545 TVTs in 2014.
Even as the interest in the matches is visibly down, advertisers are hoping the tide will turn once the election is over.
The current dip could be because of the election. Given the high decibel campaign of both the BJP and the Congress and the non-stop news bytes from Priyanka Gandhi and the BJP leaders including the PM candidate Narendra Modi, viewers are naturally distracted, said the senior executive of a company advertising heavily on the IPL. Once the election results are out and IPL is back in the country, we are sure the games will be winning eyeballs like in the past, he added.