The iPhone 5C marks a departure from Apple Incs focus on purely premium phones, but not as much as some expected. It has proved pricier than expected and is, in fact, a trimmed-down version of the iPhone 5 launched a year back. To add to the heartburn among Indian customers, there is no mention as to when it will be made available here
Come September and gadget lovers (die-hard Apple fans in particular) from around the world wait to hear on whats new from the Apple headquarters in Cupertino, about 45 miles south of San Francisco. Last Tuesday, Apple launched two new iPhones: the iPhone 5s and the iPhone 5C. Apple fans in the country are, however, a disenchanted lot; they rue the non-availability of the companys latest gizmos here. There is no mention as to when both the devices will be made available in India, one of the major reasons why Apples market share has always been in the range of 2-3% in the country, in terms of unit shipments. For early adopters, the only choice is to get them from abroad, or procure them from the grey market.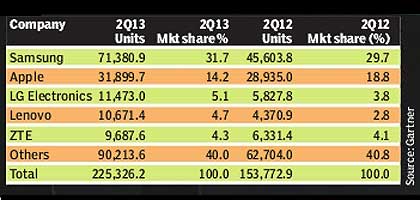 First, a look at the two announcements. To be fair to Apple, the company has always designed some of the best smartphones in the world. Its iPhone 5s sets a new standard for smartphones with its new 64-bit A7 processor, which promises to provide blazing-fast performance when launching apps, editing photos, or playing graphic-intensive games. It also features an all-new 8-megapixel iSight camera and introduces the Touch ID fingerprint sensor, which allows you to securely unlock your phone with the touch of your finger.
But it is the affordable iPhone 5C series that has raised eyebrows in industry circles. By and large, there has been disappointment starting from the price to many other features of this so-called most colourful iPhone yet, in five coloursblue, green, pink, yellow, and white. While iPhone 5s has some new features that will catch consumers eyes, the much-awaited smartphone for emerging markets, 5C is a definite disappointment on the pricing front. Indian consumers would have welcomed a device in the range of R20,000-R25,000. At $549 (without contract), the iPhone 5C is not going to help Apple improve its market ranking in India, says Faisal Kawoosa, lead analyst, CMR telecoms practice.
Although Apple has made it clear that the new iPhone 5C is a colourful version of the earlier model iPhone 5 without many software changes, this is the smartphone through which Apple will target emerging markets like China, India, Brazil, African continent and other countries, positioning it as a more affordable, colourful, cut-down version of the flagship model. Worldwide mobile phone sales to end users totaled 435 million units in the second quarter of 2013, an increase of 3.6% from the same period last year, according to Gartner. Worldwide smartphone sales to end users reached 225 million units, up 46.5% from the second quarter of 2012.
Smartphones accounted for 51.8% of mobile phone sales in the second quarter of 2013, resulting in smartphone sales surpassing feature phone sales for the first time, said Anshul Gupta, principal research analyst at Gartner. Asia/Pacific, Latin America and Eastern Europe exhibited the highest smartphone growth rates of 74.1%, 55.7% and 31.6% respectively, as smartphone sales grew in all regions.
Samsung maintained the No. 1 position in the global smartphone market, as its share of smartphone sales reached 31.7%, up from 29.7% in the second quarter of 2012 (see Table). Apples smartphone sales reached 32 million units in the second quarter of 2013, up 10.2% from a year ago.
A close scrutiny of the market reveals that India registered 221.6 million mobile handset shipments for CY (January-December) 2012. During the same period, 15.2 million smartphones were shipped in the country. According to CMR, for the period January-April 2013, India registered 73.5 million mobile handset shipments, a growth of 11.1% year-on-year. During the same period, 9.4 million smartphones were shipped in the country, a growth of 167.3% on an annual basis.
Seasoned industry watchers inform that Apple first fulfills the demand for its newly launched products in the US, Australia, Canada, France, Germany, Japan, Singapore and the UK. It is only when the sales dwindle a bit in these markets that Apple considers a launch in other markets.
In comparison to Apple, other players such as Samsung, Nokia, HTC, Sony and BlackBerry have always maintained a sustained marketing and promotion drive to grab the consumers attention here. India is in the list of top countries for these handset vendors globally and a place where their latest devices are introduced quicklyif not simultaneously along with the global launch. BlackBerry launched three new BB10 smartphones this year, the touchscreen Z10 device and then the Q10, as well as a less expensive Q5 keyboard device. Last week, it unveiled one more lower-priced BlackBerry 9720 smartphone in India. The product is priced at R15,990.
Sunil Lalvani, managing director for India at BlackBerry, says, This new smartphone provides an ideal choice for urban youth and customers who are looking to upgrade from a feature phone or existing BlackBerry Curve smartphone to an affordable, easy-to-use smartphone with rich messaging and social networking connectivity. India is the second fastest growing smartphone market in the world. There are about 650 million mobile users here of which only 12% are using a smartphone. There is tremendous opportunity for growth, not only for us but for our competitors as well.
According to Faisal Siddiqui, country head, HTC India, the smartphones category is showing promising growth in the country. The market is expected to grow at 60-80% for the next 3-4 years. A large number of featurephone users are migrating to entry-level smartphones. This is attracting a number of players to start offering smartphones, particularly for entry level users who would like to migrate to a more sophisticated mobile experience. At HTC, the plan for the Indian market is to bring different types of handsets at affordable rates to the varied consumer portfolio. We plan to expand our distribution network and service centres across India.
Back to Apple. Tarun Pathak, assistant manager, telecoms practice, CMR says, I dont think the iPhone 5C will be able to win over new customers in geographies such as India, China, Latin America, Russia, with a model that boasts multiple colours as a USP. It is in fact a trimmed-down version of the older model launched a year back at a price per unit which is almost two times. In his opinion, apart from pricing, other specifications such as screen size will go against Apple, as people in emerging markets have shown a strong preference for the bigger screen size phablet devices (5-inches to 7-inches) in the last few quarters. The entry-level Android operating system-based smartphone models in these emerging markets will easily beat the Apple 5C, with its current specifications. I feel the launch of a new model like the iPhone 5c does not really serve any clear purpose.
Apples efforts to stand out in a crowded field of smartphones will come to a naught if the endeavour is not followed by efficient execution of a business strategy that is specific to India.