Stating that large PSUs have not pulled back on investments, state-run Indian Oil Corporation (IOC) on Tuesday said it would upgrade its existing refineries at Panipat, Mathura and Gujarat with an investment of close to R70,000 crore to nearly double the refining capacity to 100 million tonnes by 2021-22.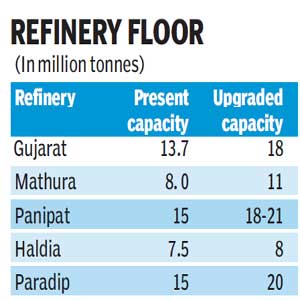 As part of the expansion plan, the company is pitching hard for a timely compensation from the government for the under-recoveries on sale of products below cost. It will also build a new refinery in Gujarat with a capacity of 15 million tonne.
At present, IOC has seven refineries with a total capacity of 54.2 million tonnes per annum.
This would be taken up to 100 million tonnes during the 12th and 13th Five Year plan periods.
We have a prespective plan to raise this capacity to 100 million tonnes by 2021-22," said R K Ghosh, director (refineries), IOC. "We are looking at revamping the existing refineries because it is economical. Revamping cost R1,500 crore for every million tonne against R2,000 crore for a green field project," he added.
It also plans to set up a new green field refinery in the West Coast and intends to integrate most of its refineries with petrochemical complexes, according to the 13th Five Year Plan period.
Engineers India Limited had been commissioned to submit a feasibility report on setting up of refinery at West Coast by December, he added. The upcoming 15 million tonne refinery at Paradip in Orissa would be ready by the end of next year and would be expanded to 20 million tonnes.
The delay in the project may lead to a 10% cost escalation from planned expenditure of R29,700 crore, Ghosh said.
The refinery would process 40% of Maya crude and remaining would be sourced from Kuwait. "We will use hi-acid crude from April. This is because these crudes are cheaper. Currently, we cannot use 100% heavy crude as transportation is a problem. We are trying to expand our crude basket."