Our customers are increasingly realising the long term benefits of Bhel equipment which is evident from various orders we have won from independent power producers.,
B Prasada Rao CMD, BHEL
Bharat Heavy Electricals Ltd (Bhel) is doing well despite competition from cheaper Chinese imports. The company has drawn up corporate plans to further consolidate its position in the domestic power market. The company has also bucked the demand growth slowdown in the capital goods industry in the second half of the current financial year.
Flush with funds, the company plans to set up a cold rolled grain oriented silicon (CRGO steel plant in partnership with Steel Authority. CRGO is a key raw material for power equipment manufacturing. But as of now, there is no plant in India to manufacture this specialty steel and Bhel meets its entire requirement through imports.
The proposed plant will not only improve availability of the raw material for its manufacturing units but will also help it reduce its cost. That would in turn enhance its competitiveness against other vendors.
With the government planning to introduce large-sised, supercritical units in the country on a large scale, Bhel has tied up strategic technological collaboration to put up facility for the manufacturing of heavy forgings, which are critical to the manufacturing of turbine-generators.
Anticipating fiercer competition in the domestic power equipment, the company has also intensified in-house research and development work in recent years to reduce import content in supercritical equipment, which is a new technology for the company.
Says B Prasada Rao, chairman and managing director of Bhel, With specific reference to Chinese suppliers, our performance edge is driven by lower auxiliary power consumption, boiler efficiency leading to lower design heat rate, and better plant load factor. Our customers are increasingly realising the long term benefits of Bhel equipment. This is evident from various orders we have won from independent power producers in the recent past.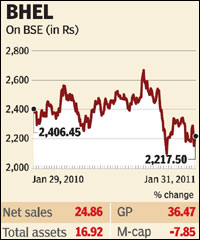 The company has also made similar strategic moves to raise it profile in areas like renewable and nuclear energy, transmission and transportation. Bhel is also planning to manufacture high-end CBFC boilers which can run even on low-quality coal. The domestic demand for this type of power equipment is currently estimated at 8,000 mw a year and growing fast as reserves of high-quality coal deplete.
The company is also planning to launch a non-banking finance company to provide funding support to power projects. That would help it leverage its huge cash reserves to improve its attractiveness to equipment buyers.
The company had orders worth Rs 1,58,000 crore in hand as at the end of the December. The power equipment maker reported 31% jump in its net sales during the first nine months of the current financial year 2010-11 while it net profit jumped 33%. Significantly, BHELs turnover has increased by three times and net profit by four times in the last five years.
Bhel received equipment supply orders for 8,921 mw capacity in the current financial year, which would sales revenue of Rs 50,000 crore. Of this, it bagged orders with Rs 12,200 crore during the September-December 2010 quarter alone, of which power sector contributed Rs 7,877 crore.