Women shop at a fruit market in Bangalore. Inflation rate eased to 5.4 percent in June, the lowest level in four months, the government said. (Image source: AP)
Softening prices of some essential food items including vegetables pulled down inflation both at retail as well the wholesale level in June, although the bleak monsoon situation remains a cause for concern.
While retail inflation in June touched its lowest mark at 7.31 per cent since January 2012, the wholesale price based index slid to four-month low of 5.43 per cent mainly because of easing prices of vegetables.
"Against the backdrop of deficient monsoon, the decline in CPI (Consumer Price Index) from 8.28 per cent in May to 7.31 per cent in June is encouraging," said PHD Chamber President Sharad Jaipuria.
According to the Wholesale Price Index (WPI) data, inflation eased mainly on fall in vegetable, fuel, edible oil, sugar and onion prices. However, the kitchen staple, potato, went up by 45.52 per cent. Read CRISIL Report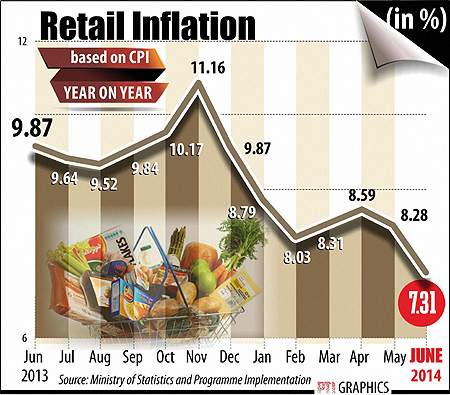 Prices of vegetables during the month declined by 5.89 per cent from May, edible oils - 0.75 per cent and sugar - 2.09 per cent. Onion prices were down by 10.7 per cent.
In the past few months, however, the prices of onion and potato had been going up. The government has taken various steps including imposing minimum export price of USD 500 a tonne on onion and USD 450 tonne on potatoes to improve domestic supply.
It has also put a stock holding limit on these items and has decided to release 50 lakh tonne of rice in open market to prevent price rise due to poor monsoon.
As for retail inflation, based on the movement of CPI, it fell to 30-month low of 7.31 per cent in June, mainly on account of lower prices of food items, including vegetables, cereals and meat.
Retail inflation was 8.28 per cent in May. Its lowest was 7.65 per cent in January 2012, the month the government started releasing the data in percentage terms.
As per the CPI data released by the government, food inflation fell to 7.97 per cent in June against 9.56 per cent in May. During the month, the rate of prise rise in vegetable was 8.73 per cent against 15.27 per cent in May.
"The moderation in inflation together with the rebound in industrial production as per the recently released data, provides a positive signal that the structural bottlenecks afflicting the economy could be gradually showing signs of receding and green shoots of recovery could be around the corner," industry body CII said in a statement.
Among others items that became expensive in June as per WPI data include fruits (up 21.40 per cent), milk (10.82 per cent), egg, meat and fish (10.27 per cent) and rice (10.24 per cent).
The WPI data revealed that food inflation in June was down at 8.14 per cent from 9.5 per cent in May. However, it is likely to remain a cause for concern for the government given the patchy monsoon so far.
The WPI inflation for April was revised upwards at 5.55 per cent, from 5.20 per cent provisionally.