L K Advani himself sat alone in his study, remembering Khushwant Singh, the man who had openly loved to hate him on a day when the TV cameras converged again at the gates of 30, Prithviraj Road in the national capital as the Bharatiya Janata Party's (BJP) cloak-and-dagger drama around Advanis candidature in this Lok Sabha election swirled into late evening,
I had known Khushwant Singh since he was a member of the Rajya Sabha, recalled L K Advani. The BJP leader made his parliamentary debut in the Rajya Sabha in 1970 and Singh was also in the House of Elders in the first half of the 80s. To the best of my recollection, our association was friendly, Advani said. In fact, Khushwant Singh was Advanis first proposer from New Delhi when he fought his first Lok Sabha election from that constituency in 1989.
Photos: Grand old man of Indian literature, Khushwant Singh, dies at 99
In 1990, L K Advani went on the rath yatra to Ayodhya, the Babri Masjid was demolished in 1992. A nation seemed convulsed by a new political current. Between the two men, things changed. The rath yatra made Khushwant Singh very bitter, he became my severe critic, said L K Advani.
The bitterness spilled into public view when during a book release function at the capitals India International Centre, Khushwant Singh lashed out at L K Advani, then deputy PM, who was also releasing the book. He feared three types of men, began Singh, as he zestily launched into Advani: those who dont take alcohol, dont eat non-vegetarian food, and those who are not interested in women.
Also read: Malaysia Airlines MH370 jetliner - Dimensions
Singh, of course, had no way of knowing that on the evening of the day of his death, Advani would pull out to read aloud, with evident affection and twinkling enjoyment, the epitaph Singh had written long ago for himself: Here lies one who spared neither man nor God/ Waste not your tears on him, he was a sod/ Writing nasty things he regarded as great fun/ Thank the Lord he is dead, this son of a gun.
In fact, many years would pass after the demolition of the Babri Masjid before the ice between the two men could break. It happened last year, when L K Advani read Khushwantnama: The Lessons of my Life. I completed the 188-page book almost in a single sitting, he said. It confirmed to him what he had always felt about Singhs writing: that for sheer readability, he (Singh) would have few peers. L K Advani would write on Singhs book later in his blog titled Amazing author: Thought provoking book: I must say that this book is eloquent testimony to the fact that Khushwant Singh spares absolutely no effort to be true to himself.
Reading Khushwantnama also impelled L K Advani to make the first move. On Sunday, March 3, 2013, he called on Singh at his residence to compliment him on his book. I offered my pranam to him. They spent an hour together and didnt talk politics.
After that meeting, Khushwant Singh wrote in his column in Hindustan Times: After he (L K Advani) led his rath yatra from Somnath Temple to Ayodhya and watched the Babri Masjid being pulled down I have been one of his severest critics. I used harsh words for him on his face at a public meeting he was to address... instead of ticking me off, as I expected, he brought a bouquet of roses for me and my daughter. I had to concede he was a better Sikh than I am.
Said L K Advani: It is a rare person, of rare integrity and character, who can say this. I admire Khushwant Singh not only because of his writing, his skill with the pen, but because of his character. In my public life I have seldom come across such people. I have seen how difficult it is for a person whose profession requires him to comment on individuals to have a measure of objectivity that can enable him to see the merits of individuals he abhors.
For Advani, Singhs large heartedness towards someone he had been implacably hostile to stirs memories of another man, in a different moment. After Gandhijis assassination, JP led a procession to the Organiser office, asking for a ban on the RSS. Yet later, he became an admirer of ours and when I asked him to address the annual session of the Jana Sangh in Delhi, he agreed. Several CPM leaders like EMS Namboodiripad tried to deter him. Its a fascist organisation, they said. But JP came and in his address he said that if the BJP is fascist, I am also fascist.
L K Advani met Khushwant Singh again last month, for the last time, on February 2 to congratulate him on entering his 100th year.
Vandita Mishra
Also read: Search for missing Malaysia Airlines Flight MH370 resumes in remote southern Indian Ocean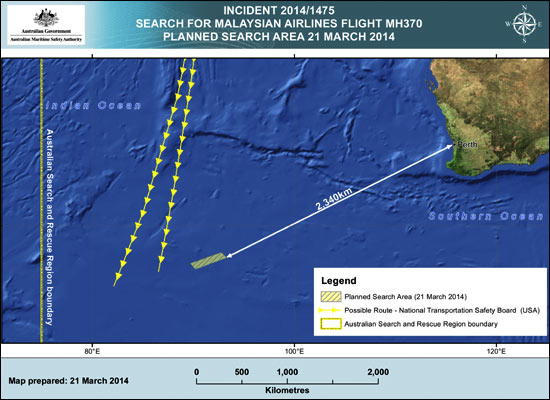 A graphic provided by Australian Maritime Safety Authority shows an area in the southern Indian Ocean that the AMSA is concentrating its search for the missing Malaysia Airlines Flight MH370. (AP).