An Emergencies Ministry member walks at the site of a Malaysia Airlines Boeing 777 plane crash near the settlement of Grabovo in the Donetsk region. (Reuters)
Swapping shift with a colleague cost ethnic Indian flight steward Sanjid Singh Sandu his life onboard Malaysia Airlines MH-17 jet crash.
41-year-old Sanjid had switched his shift with a colleague on the ill-fated Flight MH17 from Amsterdam to Kuala Lumpur which was shot down over Eastern Ukraine yesterday.
All 298 people on board were killed in the crash.
According to his distraught father Jijar Singh, Sanjid's mother had planned to cook her son's favourite dishes upon his arrival in Penang, Malaysia.
"My son spoke to me over the phone just before his flight. Ididn't know that would be my last conversation with him. What has happened has happened," Jijar, with tears flowing, told reporters at his house in Penang.
Jijar and his wife received the news from their daughter-in-law, who is also a flight stewardess at Malaysia Airlines, the Star newspaper reported.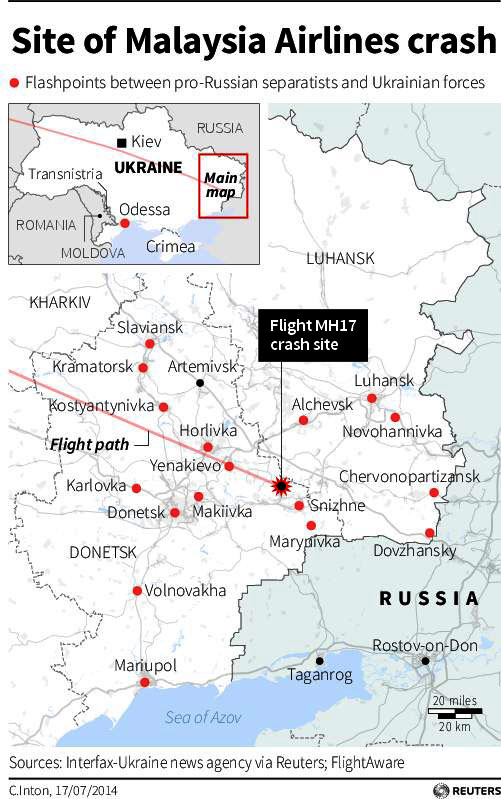 He said Sanjid, fondly known as Bobby, was his youngest child and only son.
Flight MH17 took off from Amsterdam's Schiphol airport shortly afternoon yesterday and was supposed to land in Kuala Lumpur at about 6.10am local time here today.
Flight tracking data indicated that the plane was at its cruising altitude of 33,000 feet when it disappeared.
The Boeing 777 is believed to have been shot down 50km from the Ukraine-Russia border.