BSE Sensex index target - 27,000 points: India has been the best performing market YTD (year-to-date) but now faces two headwinds that could lead to near term consolidation in the stock markets. First, El Nino worries could lead to a poor monsoon. We believe this will hurt both, GDP growth (could be lower by 50-75 bps) and inflation (could rise by 200-300 bps). Secondly, the strife in Iraq and consequent rise in oil prices poses a risk to inflation (50-75 bps higher inflation for every 5% change in oil prices) as well as current and fiscal deficit (every $10/barrel of oil increases current account deficit by 0.4% of GDP and fiscal deficit by 0.2% of GDP). However, we continue to be bullish on the market and expect reforms to drive markets to our year-end target of 27,000.
Reforms by PM Narendra Modi to drive re-rating: We continue to expect markets to re-rate, led by expectations of a surge in reforms and an economic recovery to follow in 12-18 months. Our year-end target values the market at 16.5x, a premium to long-term averages of 14.5x. If we look at the 2009 elections too, the markets traded at 16-18x for the rest of the year.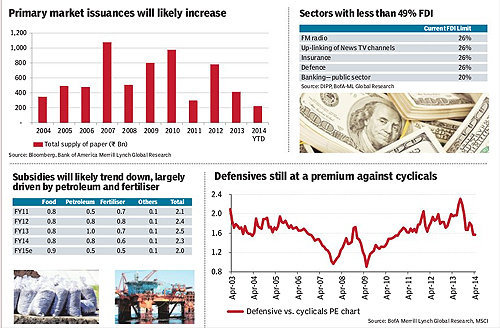 So what can Narendra Modi do
#1: Kick-start the investment cycle: The investment cycle will likely take 12-18 months to start turning around. We expect the following steps from the government to facilitate acceleration in the investment cycle:
(a) Faster clearance of projects: The Cabinet Committee of Investments (CCI) constituted by the UPA has cleared projects worth $90 billion. There are projects worth $275 bn outstanding with the CCI. We think clearing these would be a priority of the new government. The Modi government would probably identify 10-15 of the large ones that can be cleared quickly and are ready to implement so that work can start on these.
(b) Working with states on project clearances: Apart from these projects at the Centre, there is an equivalent number, if not higher, of projects stuck at the state level for want of clearances. The Modi government has said it will work closely with states to accelerate development. We think they may work initially with the NDA-ruled states.
(c) Focus on projects already underway: Some projects where work is already underway could help the revival process.
(d) Land Ceiling Act: We think the government will need to modify the Land Ceiling Act to hasten capex. We think this is unlikely over the next six-nine months. Meanwhile, the guidelines for the Act that are likely to be announced will hopefully balance the interests of land owners without hurting industry.
(e) Equity raising in buoyant markets: This would help kickstart the investment cycle by enabling debt strapped companies to repair their balance sheets. Supply of paper was very low for the last few years. Companies have raised $700m from the primary markets since the change in government. We are likely to see more of this happening.
#2: Liberalise FDI: We will probably see some positive announcements on promoting FDI and get a few majors to announce interest in investing in India. Positive sound bites have already come on FDI issues since the new government has come to power. As per the media, government is thinking of having at least 49% foreign funding in all sectors except a few strategic sectors. Some of the sectors where proposals have been put forward are:
n Defence: Proposal for FDI in defence to go up to 100% depending upon technology transfers (49% for without technology transfer, 74% for with technology transfer and 100% for state-of-the-art technology).
n Railways: The government proposes to allow foreign direct investment in several segments of railways such as high speed train systems and dedicated freight carriage lines.
n Insurance: There is a proposal to increase FDI in general insurance to 49% or hiking insurance sector FDI without voting rights or with differentiated voting rights.
n Retail e-commerce: The government may allow FDI in retail e-commerce. Currently, global online retailers are barred from selling goods directly to customers but allows them to own 100% of a marketplace business, where third party suppliers can use their platform.
#3: Vodafone case and retrospective taxation: A positive signal for FDI could be a closure of the Vodafone tax case. This could be through (i) a negotiated settlement, (ii) have an independent panel to go into the issue, or (iii) amendment to the Act so that no retrospective tax is allowed.
o Subsidy reductionoil/gas reforms: We think the government focus on subsidy reduction will initially focus on the oil & gas sector followed by the fertiliser sector.
Fate of UPA schemes like NREGA. We think NREGA will continue but the government will try to merge some productive use with this.
Oil reformsoil subsidies will likely trend down: On the oil & gas sector, we think the government will take the following steps:
(i) Diesel price hike to continue at R0.5/litre every month. This will mean the subsidy is likely to be zero by the end of the year.
(ii) Start hiking LPG prices in a similar manner every month to bridge the subsidy.
(iii) The kerosene subsidy is more difficult but we may see a price hike over next six-nine months.
#5: Tackling inflation: With the El Nino leading to a possible sub-normal monsoon, the government will have to combat food inflation on a war footing. We see three measures being taken:
(a) Supply side management: The government could focus on the supply side to manage inflation. For example, in case of a food shock (if there is a drought), the government would try to control food inflation by releasing excess food buffer or relaxing import norms.
(b) Modify APM Act: We see a modification to the APM (administered price mechanism) Act that will allow farmers direct access to the markets.
Cut wastage: A longer term issue is to cut wastage in food by expanding coal storage and improving warehouse facilities.
#6: GST and DTC
n Goods & services tax: The GST will create a common market with uniform tax rates in the country and reduce logistical costs/delays. The union government will likely address the issues raised by the state governments and kick-start GST implementation.
n Direct Taxes Code: DTC will likely simplify direct tax laws and widen the tax net, thus boosting overall direct taxes. The government will likely implement this over next one year.
#7: Infrastructure measures
(i) Coal mines to be e-auctioned
(ii) NELP (New Exploration
Licensing Policy) to be made investor friendly to attract more investors.
(iii) PPP in sectors like railways, defence, etc.
(iv) Restructuring of the premium paid by the developers to the NHAI so that developers are incentivised
to complete non-viable highway
projects.
#8: Finance sector measures
(a) Liberalise External Commercial Borrowings (ECB) norms
(b) Debate on replacing short term capital gains on shares with STT
(c) Sops for retail investor in
equity markets
(d) Norms for introduction of
REITS
#9: Labour reforms
We think this is unlikely in the near term, but something the government will consider over next two-three years. However, in the near term government may allow the states to undertake labour reforms if they want. Constitutionally, labour laws are part of the Concurrent List where both Centre and state can formulate the laws but the Centre prevails in case of a conflict.
Sector positioning continues to favour domestic plays: We think (i) mid-caps will outperform large caps (ii) domestic plays will outperform exporters. There are three factors that drive our preference for the domestic names: (i) domestic names will see a much faster growth in earnings if the economy turns (ii) after a near 40% rupee depreciation that helped the exporters, we see a flattish rupee (iii) though the domestic names have outperformed the exporters year-to-date, over a three-year period, they are still major laggards.
Large-cap Buys: Maruti, ICICI Bank, SBI, OIL
Mid-cap Buys: Eicher, Motherson, Yes Bank, Aurobindo Pharma, Bharat Forge, BEL
BofAML