The
Indian rupee
remained in the doldrums for the sixth session in a row today as it breached the 65 mark to an all-time intra-day low of 65.56 before recovering to settle at 64.55 against the dollar, still down 44 paise.
Even as local stocks recovered, the rupee's declined on dollar sales by exporters and capital outflows. Steps taken by the Reserve Bank and the government to curb volatility in the exchange rate appeared to have had little effect.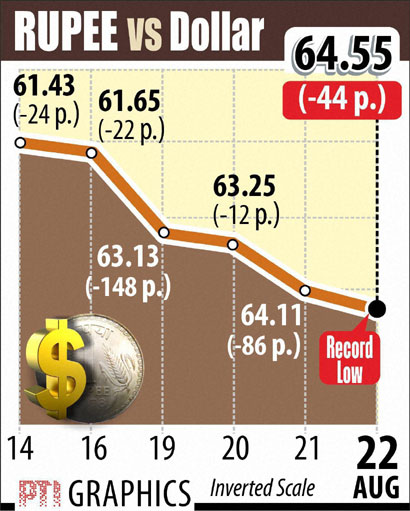 The dollar strengthened overseas after minutes showed the U.S. central bank remains on course to start trimming its stimulus before the year end. The dollar index, consisting of six major global currencies, was up 0.32 per cent.
At the interbank foreign exchange market, the rupee resumed weaker at 64.85 a dollar from the previous close of 64.11 and crossed the 65 mark to a historic low of 65.56. It recovered some ground and ended at 64.55, still a fall of 44 paise or 0.69 per cent. In six straight sessions, the rupee has tanked by 336 paise or 5.49 per cent.
"A set of RBI and government measures have not helped the rupee to witness a recovery," said Abhishek Goenka, CEO of India Forex Advisors. "The FOMC minutes, which gave a signal of tapering this year, further added pressure on the sinking rupee as the US dollar recovered in the international market."
The government is exploring structural measures to narrow the current account deficit, Finance Minister P Chidambaram said, adding there is no plan to introduce capital controls.
"We believe that the rupee is undervalued and it has overshot what is generally believed to be a reasonable and appropriate level," he said at a press conference after the market closed.
Recent steps to quell speculation in the rupee will be reversed once stability returns, said Chidambaram.
The benchmark S&P BSE Sensex today rebounded 407 points or 2.27 per cent. FIIs sold shares worth a net Rs 792.11 crore yesterday, as per provisional data with the stock exchanges.
"The trading range for rupee is expected within 64.10-65.10," said Pramit Brahmbhatt, CEO of Alpari Financial Services (India).
Forward dollar premiums continued to rule weak on persistent receipts by exporters.
The benchmark six-month forward dollar premium payable in January tumbled to 236-240 paise from Wednesday's close of 246-250 paise. Far-forward contracts maturing in July plunged to 445-450 paise from 465-470 paise.
The RBI fixed the reference rate for the dollar at 65.4207 and for the euro at 87.3176.
The rupee recovered slightly to 100.50 against the pound sterling from 100.57 and also rebounded against the Japanese yen to 65.41 per 100 yen from 65.81.
However, it eased further against the euro to 85.94 from previous close of 85.85.