Slowing economic growth resulting in a fall in corporate investments, newer instruments to raise equity domestically and tougher regulations for issuing depository receipts aboard has led to a sharp decline in the number of Indian companies going abroad to raise equity, which declined to record lows this fiscal.
According to Prime Database, only two companies went for overseas equity issuances this fiscal, which helped raise a paltry $40 million the lowest since Prime began compiling data. The money raised so far this fiscal is one-fourth of that raised by four companies last fiscal ($161.88 million) and one-tenth of the capital raised by a total of 19 companies in FY12.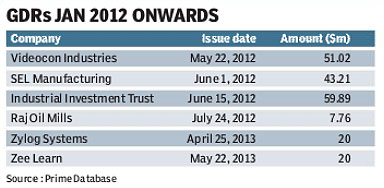 Data show most overseas issues recently done were by way of depository receipts either American Depository Receipts (ADRs) or Global Depository Receipts (GDRs). Some companies that raised foreign equity during the last 1-2 years included Zee Learn ($20 million), Zylog Systems ($20 million), Industrial Investment Trust ($59.89 million) and Videocon Industries ($51.02 million).
One reason for the decline in overseas listing is the weakness in the domestic primary markets. Under the current regulations, firms cannot raise funds through an overseas equity listing without being listed on Indian exchanges.
Since Indian primary markets have been in a bad shape for the last 3-4 years, many Indian companies could not list here and that explains why there has been a decline in overseas equity issues, said Prithvi Haldea, CMD, Prime Database.
A Mumbai-based investment banker explained that qualified institutional placements (QIPs) had also led to a reduction in GDR listings in centres like Luxembourg.
The current norms or listing agreement allow an Indian companies to raise equity through QIP or GDR. The introduction of QIPs and additional restrictions for issuing GDRs have eliminated the need for Indian companies to go overseas and raise equity, said V Jayasankar, senior ED and head, equity capital markets, Kotak Investment Banking.
Meanwhile, listings in London and Singapore have declined as they are not seen as favourable from valuation perspective. However, a section of the industry feels that the trend could change with the proposal to make overseas listings more flexible. Last month, the government introduced draft guidelines stating unlisted Indian entities could list on international exchanges without the need to compulsorily list on Indian exchanges. The scheme will be implemented on a pilot basis for a period of two years.