Citibank, Oriental Bank of Commerce (OBC) and Indian Bank cut their base rates on Monday. Citibank cut its base rate by 25 basis points to 9.5%, OBC by 15 bps to 10.25% and Indian Bank cut it by 30 bps to 10.2%, the banks reported.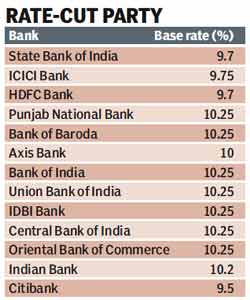 The move is to pass on the benefit of wider policy rate cut by the Reserve Bank of India (RBI) to customers. While Citibank has made the new rates applicable from January 10, they will be effective from February 9 for Indian Bank. For OBC, new rates will be applicable from February 25, the bank said.
The base rate is the rate of interest below which banks cannot lend to its customers. A cut in the base rate implies that all borrowers, both existing and new, will benefit from lower rates. Borrowers pay interest a few percentage points higher than the banks base rate.
The retail loan portfolio, that had so far helped banks salvage their credit offtake amid deceleration in disbursals to the industry, showed signs of slowing down in December indicating that consumers are tightening their purses.
In December, banks retail loans grew at 13.7% year-on-year, slower than the 16.3% clocked a month ago, data from Reserve Bank of India showed. The slowdown was on account of a 36% year-on-year fall in loans for purchases of consumer durables, as compared with a 28% growth in the previous year.
Bank of Baroda, Bank of India, Central Bank of India, Punjab National Bank and Union Bank of India had already cut their base rates by 25 bps last week, bringing them down to 10.25% each.
On Wednesday, the country's largest lender State Bank of India (SBI) lowered its base rate by 5 bps to 9.7%. However, private banks like HDFC Bank and Federal Bank had announced reduction in rate of interest on their vehicle loans.
Immediately after RBIs policy rate cut on Tuesday, IDBI Bank and RBS had cut their base rate by 25 bps to 10.25% and 75 bps to 9%, respectively. IDBI Bank also reduced its BPLR by 25 bps at the same time.