India has seen the highest FII inflows ($755 million) among EMs ever since the second round of tapering began. Reuters
A fresh round of QE tapering by the US Fed has led to an exodus of FIIs from the emerging markets. The previous week, in fact, saw the highest outflow in more than two years. India, however, appears to have weathered the storm better than its EM counterparts.
India has seen the highest FII inflows ($755 million) among EMs ever since the second round of tapering began on December 18.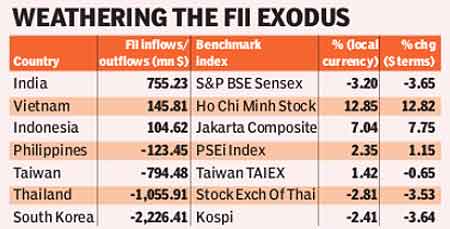 While FIIs have turned net sellers in most Asian markets since then, they remain net purchasers of equities in India, Indonesia and Vietnam. Indonesia and Vietnam have seen net inflows of nearly $105 million and $146 million, respectively, during this period.
Despite sustaining FII interest better than other EMs, the Indian market has fared the worst during the period, with the benchmark Sensex falling 3.7% in dollar terms. According to experts, the Indian markets have seen a sharp correction from all-time highs not only because of tapering worries, but also due to skewed investor interest towards a handful of stocks.
High-valuation stocks that were keeping the markets elevated have started cracking in the recent days, said Andrew Holland, CEO, Ambit Investment Advisors.
On January 23, the Sensex closed at an all-time high of 21,374 points. Shares of Tata Steel (-11.4%), Larsen & Tourbo (-9.8%), ICICI Bank (-10.5%), BHEL (-7.7%) and State Bank of India (-15.%) have seen a sharp fall since the second round of tapering started the December quarter numbers of some companies have also impacted the performance of their stocks .
Meanwhile, South Korea has seen highest FII outflows at $2 billion. Thailand ($1.05 billion), Taiwan ($794 million) and Philippines ($123 million) are other Asian countries where FIIs have been selling since the tapering began.
Yet, the tapering has weighed even on the Indian markets. FII selling has intensified in the recent days after the US Fed further trimmed the stimulus package by $10 billion to $65 billion on January 29.
Since then, FIIs have sold $413 million worth of equities. Over the last eight sessions in February, FII selling has stood at $291 million, more than 20 times of that in January. Experts feel the selloff is likely to continue. At a recent media interaction, Mark Mobius, executive chairman, Franklin Templeton, said that given the negative sentiment towards EMs, a lot more selling can be expected. The new US Fed chairperson, Janet Yellen, on Tuesday said that she expected the US economys recovery to continue and that the Fed would continue with the tapering in a measured manner.