foreign institutional investors
The economy may be sluggish, the rupee weak and corporate earnings uninspiring, but foreign institutional investors (FIIs) bet big on the Indian markets in 2012, pumping in close to $25 billion. That sent the benchmark indices roaring into rally mode; while the Sensex soared 26%, the broader Nifty put on 27%, with the two outperforming not just their BRICS and Asian peers but also most developed markets. Only Germanys DAX that has rallied more than 29% so far in 2012.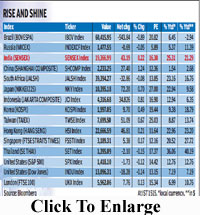 What seems to have convinced FIIs to shop for Indian stocks was the policy push, initiated by finance minister P Chidambaram, and the belief that growth might have troughed out. Of course, liquidity was abundant with most central bankers across the globe, opting for easy money policies.
While global liquidity has rushed in to most emerging markets, compelling valuations and the fact that the government pushed through some reform added to the optimism of global investors, said Andrew Holland, CEO (investment advisory), Ambit Capital.
India outperformed its BRICS counterparts spectacularly Brazils Bovespa, Russias Micex and Chinas Shanghai Composite added a meagre 5%, 7% and 1.5% respectively. India ranks as one of the best-performing markets globally too; major European markets have gained 6%-15% as have others including Dow Jones, S&P 500 and Nasdaq.
Money flowed in despite Indias macroeconomic headwinds, a widening fiscal deficit that could leave inflation elevated and a high current account deficit that could see the rupee weaken further. While FIIs were spooked somewhat in March after the government proposed retrospective taxation and amendments to general anti-avoidance rules (GAAR), neither the fall in the growth of the GDP to below 6%, in the March quarter nor the fall in the Indian currency to all-time low of 57.15 against a dollar seemed to worry them too much. With the Indian market trading at 20% discount to their historic valuations, foreign brokerage started increasing their weightages between May and June 2012.
Even after its outstanding performance, the Sensex trades just a shade above its long-term valuations of 15 times one-year forward earnings. At the current level of 19,450 points, the Indian market commands a multiple of 16 times estimated 2012-13 earnings and 13.5 times estimated earnings for 2013-14 and remains cheaper than both Indonesia and Thailand. Said Harsha Upadhyaya, head (equities), Kotak Mutual Fund: Beaten-down valuations, the bottoming out of earnings downgrade cycle saw a change in the sentiment. India has seen stronger inflows than Korea in 2012 while FIIs have invested $15.1 billion in Korean stocks, they have shopped for $24.4 billion worth of Indian stocks.
The last 5% move in the market, which pushed it to nearly a two-year high was triggered by a Goldman Sachs upgrade of its outlook on Indian equities to overweight at the end of November and high expectations that the government will continue with reforms. On December 6, 2012, the Nifty rallied to a 23-month high of 5930.9 while the Sensex touched a fresh 19-month high of 19486.8. Even before Goldman revised its outlook, leading foreign brokerages including JPMorgan, Morgan Stanley, Deutsche Bank and UBS had upped weightages on India in the last six months.