The year 2013 was another difficult one for India investors.
The year 2013 was another difficult one for India investors. The debates for the year centred around the following:
w Rising US 10-year bond yieldsThe tightening in the US caused a pro-cyclical rise in rates in India and threatened the already weak growth.
* The volatile INR A symptom of Indias savings deficit or high CAD.
* Indias capex cycle or the lack thereof.
* Sluggish corporate earnings.
* Indian politicsThe market is already gripped by election fever, even as elections could be another five months away.
* Quality and defensives continued to deliver the goods even though in the latter part of the year beta and cylicals seem to be making a comeback.
Market highlights
* Even as the BSE Sensex reached an all-time high in 2013, the broader market represented by the mid- and small-cap indices are traded 20% and 50%, respectively, below their historical highs.
* In 2013, the broader market underperformed the narrow market by a significant margin.
* India underperformed the emerging markets during 2013. Indias performance ranking slipped to 11th position from eighth position of 2012.
* Technology and telecoms were the best-performing sectors for the year. Utilities was the worst-performing sector.
* FIIs remained strong buyers of Indian equities while domestic institutions remained net sellers in 2013.
* Trading activity was tepid with some improvement seen in H2CY13. Derivatives volumes exhibited improvement vs. that seen in 2012. However, it was weaker than in 2011. The share of options traded to total derivatives traded remained high, although below previous peaks.
* Market breadth and depth showed signs of improvement during the year, while hedging activity rose significantly during H1CY13.
* The number of BSE200 stocks trading close to their 52-week highs rose to 20% and about 10% of the total are now trading close to their all-time highs. The share of Sensex turnover to total turnover continued to fall through the year.
* Domestic equity funds witnessed outflows while there were inflows in fixed income funds.
* Even as absolute valuations rose in 2013, Indias relative valuations to EM remained unchanged for most of the year.
* Consensus revised down the (emerging-market) 2014 Sensex earnings growth by 4ppt since the start of 2013, and the earnings revision breadth continued to trend in negative territory.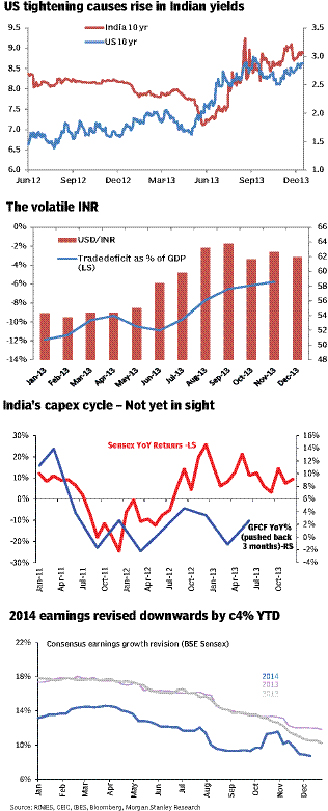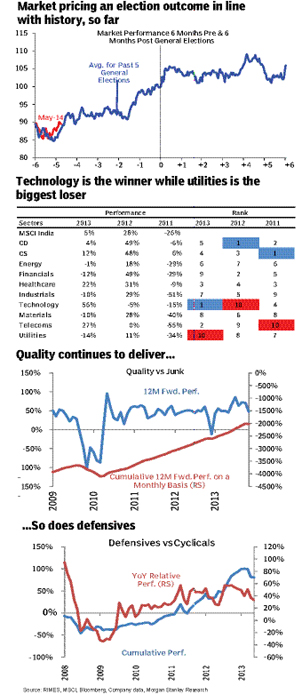 Morgan Stanley