FE study of top 10 business houses reveals an increasing number are beating retreat. (Reuters)
India Incs ability to generate returns for its common shareholders has been deteriorating over the last three financial years. An FE study of top 10 business houses in the country reveals that an increasing number of corporate houses have witnessed a fall in their return on equity (RoE) since 2008-09.
In the financial year 2011-12, RoEs of seven of the top 10 groups have fallen by 170-1,187 basis points over the previous financial year. The only groups that have improved their returns over the previous financial year are those of the Munjals, Anil Ambani and Birla AV.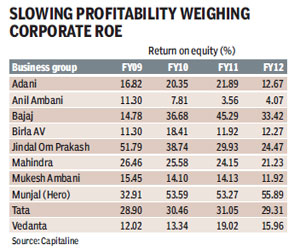 RoE measures a corporations profitability by revealing how much profit a company generates with the money its shareholders have invested. It is measured as net income as a percentage of net worth or shareholder equity. Adjusted net profit (profit before extraordinary items) was considered as net income after deducting the preference dividend, if any.
At a time when corporate profits are growing at a slow pace and raising additional funds becomes harder, companies retain a higher portion of net income to strengthen the balance sheet. As a result, the shareholder equity of majority groups in FY12 grew faster than their bottomlines, bringing down their RoE. Shareholder equity comprises equity paid-up and reserves. In FY11 and FY12, five and four corporate groups saw a decline in their RoEs, respectively. Mahindra and OP Jindal were the only two groups that have witnessed a consistent fall in their RoEs over the last three years.
Incidentally, the profit growth of Indian companies has broadly been on a decline since the last two years and that of Sensex companies hit its lowest since the Lehman crisis. Some analysts believe that the worst may not be over for India Inc as yet amidst falling earnings forecasts for the biggest Indian companies.
Credit Suisse expects an 8-10% downside to consensus estimates for the Nifty earnings per share in 2013-14 due to an economic slowdown which is deepening and widening. Given this trend, the RoEs of promoter groups may post a further decline in FY13.
Meanwhile, Bajaj group emerged as the biggest loser this year due to a sharp fall in RoEs of both Bajaj Auto and Bajaj Holdings. While the return of Bajaj Auto skid from 73.3% to 54.9% in FY12, Bajaj Holdings witnessed a fall of 1,013 bps in the ratio.