With rising social consciousness about decent wages and good working conditions, fair trade certification is no longer an expensive fad. Corporations across the world are racing to get their products certified for fair trade practices. Well ahead of the World Fair Trade Day on May 8, a multitude of certifiers have dropped anchor in India, all vying for a share of the fair trade certification business in the country.
Both Cologne-based Good Agricultural Practices (Global GAP) for certification of agricultural production processes and Culemborg, Netherlands-based World Fair Trade Organisation (WFTO) for labelling food and handicraft businesses have turned up the volume. Bonn-based Fair Trade Labelling Organisation (FLO) Internationals affiliate FLO-Cert, a global leader in fair trade certification, is working overtime to increase the number of businesses applying for certification in India. Even an Indian NGO, Shop for Change, has just started certifying T-shirts at the Future Group-affiliated Mother Earth stores across the country.
Fair trade certification ensures that subscribing businesses provide healthy working conditions and fair wages to workers, practise gender equality, dont use child labour and avoid degrading environment during production and trade. It applies mostly to exports of agricultural, handicraft and textile products from poor countries to rich ones.
Seth Petchers, CEO, Shop for Change says: Fair trade is fashion with a heart. Little wonder that celebrities ranging from Bono and David Beckham to Gul Panag and Mallika Sarabhai support the cause. Bollywood icon Amitabh Bachchan recently participated in a promotional event at an Oxfam shop selling fair trade products in London .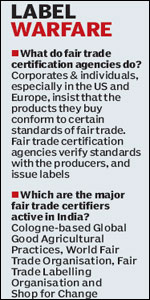 The momentum has picked up recently. In a first of its kind, Global GAP has authorised Jain Irrigation Systems to certify standardised practices of small and marginal farmers. Its an important step because a Global GAP certificate is demanded by an increasing number of importers in Europe these days. Already, about one lakh producers follow Global GAP standards with the help of accredited certifiers in more than 100 countries.
The mission goes beyond certification. The World Fair Trade Organisation (WFTO), a global network of fair trade organisations, is conducting 11 pilot studies for labelling handicraft products in India . The WFTO is conducting the studies through the Fair Trade Forum-India, a network of over one lakh grassroots artisans from 4,500 producer groups and 70 member organisations. Roopa Mehta, president, Fair Trade Forum India & country representative,WFTO-Asia says: Certification helps to have a competitive advantage over conventional products in the export market.
FLO-Cert, which operates in India through the Network of Asian Producers and the Indian Fairtrade Initiative, certified 167 businesses in 2009 against 124 in 2008, according to Ravi Prasad, spokesperson of FLO-Cert. The FLO label is very common on food products in Western supermarkets. FLO says that thousands of small businesses from Auroville to New Delhi are at the heart of the matter. These units make products ranging from handicrafts, garments, accessories and home furnishing to food items for the $4-billion global fair trade market, which is growing annually at 22%.
India s growing middle-class consumer base is attracting attention not only for volumes, but also for its growing interest in socially and environmentally correct causes. The Edelman Goodpurpose Consumer Study 2009 found out that 64% of Indian consumers think more positively about companies that internalise good causes into their operations, and 85% consumers are willing to change their favourite brands and lifestyle habits if it helps to improve the conditions in the world.
Fair trade industry leaders are clearly excited. Calling it a welcome development, Gaynor Pais, CEO, International Resources for Fairer Trade says: Indian fair trade exporters can pitch for bigger buyers once more lines of products are certified. Moon Sharma, CEO of Delhi-based Tara Projects, a fair trade outfit adds: Third-party certification can help Indian entrepreneurs supply even retail majors like Wal-Mart and Marks & Spencer and brands like The Body Shop and Monsoon, which are high on fair trade products.
It may happen sooner than later. Jain GAP had started off certifying 2,000 mango and onion suppliers in the groups food value chain at Jalgaon in Maharashtra and Chittoor in Andhra Pradesh. Now, it is planning to cover more products and more farmers, even those not currently in its supply chain. DN Kulkarni, president, Sustainable Agriculture for Small Holders, Jain Irrigation Systems says: We have received good response not only from participating farmers, who are proud of subscribing to Jain GAP, but also buyers abroad.
The Fair Trade Forum India hopes to graduate from pilot programmes to commercial certification on a large scale soon. Ivan Carvalho of Mumbai-based Asha Handicrafts, which is running the first pilot study for the WTFO in India says: We are almost ready and waiting for certification to roll out from the Netherlands headquarters. It seems its only a matter of time before fair trade labels stick firmly to Indian products.