The Azim Premji-led firm will also bring under its fold over 500 employees from the acquired unit.
Wipro, Indias third largest information technology services exporter, has bagged the largest outsourcing contract in its history in a deal valued at $1.12 billion through an alliance with ATCO, a Canadian energy and utility company. The deal will also include Wipro taking over ATCOs IT subsidiary I-Tek in an all-cash deal worth $195 million. The Azim Premji-led firm will also bring under its fold over 500 employees from the acquired unit.
The deal, spread over 10 years, is projected to result in revenues of over $112 million for Wipro annually, up to December 2024. The master services agreement states that Wipro would provide the complete suite of IT services to ATCOs operations in Australia and Canada during this period.
This deal makes Wipro the largest IT vendor for the Canadian company. It is likely that the revenue from this deal will start flowing in from the second quarter of the current fiscal.
The ATCO deal comes as a major boost for Wipro, especially for its energy, natural resources and utilities segment (ENU), which accounted for 16% of the companys revenue in 2013-14.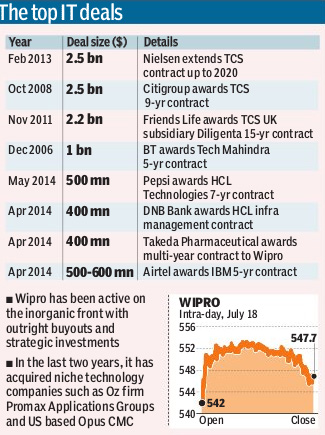 Credit Suisse in its note following the announcement of this contract said, The deal is significant in size and provides visibility given the long tenure. We think that there is a probability that Wipro could win more business from ATCO over the next few years.
The brokerage house said it did not strictly view it as an acquisition. It is like any other total outsourcing deal where assets are taken on board and the employees rebadged most large deals will require some form of upfront consideration. We view this deal positively. This deal would have been in discussion for some time and would have contributed to the managements positive outlook over the past few months culmination of this deal lends more credibility to the management outlook, Credit Suisse added in its report.
The Wipro stock closed at `547.70 on the Bombay Stock Exchange on Friday, a gain of 1.83%.
Anand Padmanabhan, Wipros chief executive of the ENU unit, said that this contract was a combination of providing outsourcing services and other transformational initiatives that deliver certain business outcomes to ATCO.
Wipro will provide services such as infrastructure, application maintenance and development besides asset management to ATCO after the outsourcing contract is sealed.
Jatin Dalal, Wipro's CFO (IT business) said that the ATCO deal would not dilute the company's profitability and it is in line with its operating profit margins level.
On the acquisition of the captive IT arm, Padmanabhan said, This will enable us to provide a lot of services in the utilities market. They come with a lot of domain knowledge on how utilities work in that specific markets. ATCO with over 9,800 employees operates in segments such as logistics, utilities, energy and technologies.
Wipro has been very active on the inorganic front with outright buyouts and strategic investments with its string of pearls strategy. In the last two years, it has acquired niche technology companies such as Australian firm Promax Applications Groups and Opus CMC of the US, while taking a minority stake in Opera Solutions, another American firm. In the energy, natural resources and utilities space, Wipro had acquired US-based SAIC's oil and gas IT business for $150 million in 2011.