The Reserve Bank of India raised the provisioning requirement for outstanding standard restructured loans from 200 basis points to 275 basis points. The requirement is likely to increase further in a gradual manner to 500 bps, in line with the Mahapatra Committee recommendations. The current 75 basis point increase in outstanding standard restructured loan provisions will have a marginal impact of 1-4% of FY13 profits before tax of the banks. The new norms would hurt public sector banks more since they have bloated restructured loan books compared to their private sector competitors.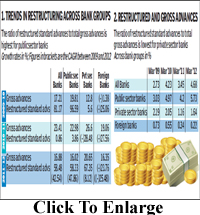 While the detailed guidelines regarding this increased provision requirement are yet to be announced by the central bank, various reports estimate that the worst-hit would be Punjab National Bank, with an estimated 5.1% impact on its FY13 profits after tax. In the case of PNB, which had a restructured book of R27,852 crore as on September 30, the additional provisions will be to the tune of R209 crore. For Bank of Baroda, the impact on its FY13 PAT is expected to be 3.8% and for State Bank of India it is estimated at 2.1%.
The central bank is likely to release draft guidelines for restructuring of loans by January next year and is likely to implement this by March 2013. In July this year, the Mahapatra committee had suggested that banks must provide for 5% against restructured loans that are classified as standard instead of the current 2% and also recommended that promoters must make a bigger sacrifice.