A major highlight of HTC Desire 700 device, costing the Rs 27,490, is its large home screen with eye-pleasing clarity.
Smartphones are great, they are basically a mini-computer in your pocket packed full of features to make your work and personal life easier. The larger the display, even better. You get more space to read your emails, browse the internet, play games or simply immerse yourself in your collection of photos and video. In simple terms, you get to do more on that big, beautiful screen.
Take for instance the HTC Desire 700, a dual SIM handset from the Taiwanese phone maker. You get more volume, camera tools, and home screen capabilities than any other
Desire series phone. Its dual SIM capability enables two active phone lines at the same time. Thus you can use a personal and business number and optimise your data plan with two accounts. You can even take calls and texts from one account while using the other, no card swapping required. Heres my take on the general feel and impressions on this Desire phone and how it stacks up against the competition.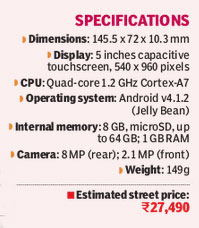 A major highlight of this Rs 27,490-a-piece device is its large home screen with eye-pleasing clarity. Seriously, you have got to see it to believe it. The HTC Desire 700 gives you a great 540 x 960 display (220 ppi pixel density) spread over 5-inches, adorned with Android v4.1.2 (Jelly Bean) and Sense 5.5, so its totally up to date. Theres plenty of space for gaming, movies or browsing. In real use, the display is excellent, delivering authentic colours and great viewing angles. Your videos, photos and online browsing will actually come to life with stunning clarity.
HTC devices have always stood out in the market place with their excellent design and build quality, and I am glad to see the company raising the bar yet again with the Desire 700. Out of the box, you can make out that the Desire 700 is a nicely designed device and it feels solid in the hand.
Its a big handset too, measuring 145.5 x 72 x 10.3 mm and weighing 149g. To be honest, if you are fond of wearing tight jeans, youll be somewhat embarrassed to keep the Desire 700 in your pocket; you get a lump in your front pocket and it can get quite discomforting at times. Also, the phone might be too big for some to handle, especially those how are looking to use it as a calling device only, without its tablet-like functions.
But the big size has its advantages too. You get the twin-facing BoomSound speakers, making the Desire 700 a great device for those who love music or want to watch movies or play games without headphones. No longer do you need to rely on external speakers as the sound that comes out from the dual speakers in front is pretty decent, much like a good set of laptop inbuilt speakers. The dual speakers on the front project sound at you, not away, for a great phone volume. Moreover, the audio is crisp and clear with no distortion.
Frankly, the Desire 700 has a lot going for it. It runs on a quad-core 1.2 GHz Cortex-A7 processor with 1 GB RAM. For a casual user, it means faster internet browsing, smoother multimedia capabilities and less buffering while streaming content. The quad-core processor makes it feel snappy and slick.
The Desire 700 is a pretty competent snapper too. It comes with a 8.0-megapixel camera that is able to record videos at 1080p. HTC Zoe photo automatically captures upto 20 photos and a 3-second video to create a picture thats alive. Video Highlights selects event footage to craft a 30-second mini movie automatically. Watching video on it is an absolute joy, and for browsing the Web out and about, it feels like you have almost got a laptop with you.
However, the Desire 700s 8 GB of internal memory is restrictive, especially for gamers who might have to contend with many GB of game files. Also, it will limit the number of apps you can install that require a lot of data, such as games. The battery life (Li-Po 2100 mAh battery) is pretty decent. Heavy users will get two days battery life and light users could see three or four days.
Overall, a solid effort from HTC to stand out in the Android crowd.