One sure-fire way of telling a persons age is to ask him or her about Khushwant Singh. If they say that he was a nice old man who ran a weekly column which contained jokes sent in by readers from Jabalpur and Asansol, then they are quite young. If they mention a connection with the Gandhi family, then they are middle aged. If they talk about the legendary editor of the Illustrated Weekly of India, then they are old. And if they discuss the author of Train to Pakistan, then they have just looked him up on Wikipedia.
The truth is that there were four distinct Khushwant Singhs. To tell them apart, you only have to look at his life chronologically. In the beginning, Khushwant Singh was the prosperous young author and heir to the fortune created by his father, Sir Sobha Singh, the builder of New Delhi. This Khushwant Singh worked in the Indian High Commission in London and wrote such novels as the well-reviewed Train to Pakistan. He was unabashedly right wing, pro-American and anti-Nehru at a time when the prevailing intellectual ethos was left wing and anti-American. He regularly lampooned the left and they, in turn, libelled him as a CIA asset and an American stooge. (Of course he was neither.)
Photos: Grand old man of Indian literature, Khushwant Singh, dies at 99
A second Khushwant Singh emerged in the late 1960s when he was appointed editor of the venerable Illustrated Weekly of India. Though he had little journalistic experience, Singh turned the Weekly into Indias most popular magazine and created a new style of journalism which was widely imitated. He also mentored such young writers as MJ Akbar, Bikram Vohra, Bachi Karkaria and Jiggs Kalra who went on to become stars in their own right.
But most readers probably remember a third Khushwant Singh. This was the man who worshipped at Indira Gandhis feet, hailed Sanjay Gandhi as the hope of the nation, promoted Menaka Gandhis claims to succeed her husband and then, eventually, fell out with the Gandhis and flirted with various other politicians, supporting LK Advani at one election and then singing the praises of Manmohan Singh.
Over the last decade or so, there has been the final Khushwant Singh, a nice old man who lived in Delhis Sujan Singh Park, still turned out a weekly syndicated column when he was well into his 90s and was ready to help and encourage any young writer who rang his doorbellthough, of course, it helped if they were young (though when you are 90, young becomes a relative term) and pretty.
Of the many Khushwant Singhs, my guess is that only two will be remembered in the long run. The first is the editor of the Weekly. We forget now how dull and primitive Indias media scene was in the 1960s. Under such celebrated editors as AS Raman, the Weekly focused on classical dancing and literary pursuits. When Singh took the job, he aimed for a wider audience and introduced such populist features as a series on the communities of India. He encouraged journalists to find their own voices and started a trend for first person journalism which endured for over a decade till the neutral India Today style of prose killed it off.
More significantly, he also revelled in his reputation for being daring and provocative. It is now difficult to imagine an era in which an article on hijras so outraged middle class India that thousands of letters of protest would be received by the editor. Unusually, for that era, Singh took delight in describing the physical attributes of the women he wrote about, relishing in such quaint descriptions as a buxom lass. Even this led to shock and horror and he was routinely denounced as a pervert who was not fit to edit a family magazine. But as the controversies raged, circulation climbedto around half a million.
The third Khushwant Singh emerged directly out of the second. After spending years at the Weekly denouncing Indira Gandhi (as he had denounced her father before her), Khushwant Singh suddenly fell in love with Sanjay Gandhi. Inexplicably enough, this romance reached its height during the Emergency when the opposition was locked up, the press was censored and Mrs Gandhis thug-like younger son was planning his own version of the Third Reich. Even when Indira and Sanjay were thrown out by the electorate in 1977, Khushwant Singh stuck by them, mentoring Sanjays young wife Menaka who had started a magazine called Surya. It was during this phase that his term at the Weekly came to an end. Singh blamed the Janata government for having had him dismissed and took his ouster with bad grace, constantly sneering at the low-key and upright MV Kamath who replaced him, and running a vendetta against the Jains of the Times of India for decades after the event.
But loyalty has its rewards. KK Birla wrote in his autobiography that when the Congress returned to power in 1980, Sanjay Gandhi asked him to appoint Menaka as the editor of The Hindustan Times. When Birla declined, Sanjay suggested he appoint Khushwant Singh instead. And so a couple of years after he was ousted by the Jains, Singh started a new career as the editor of Delhis most powerful newspaper.
But then, Singh miscalculated. After Sanjay died, he backed Menaka because he believed that Rajiv Gandhi did not want to be the successor. When Menaka left the Prime Ministers house, calling her mother-in-law names, Indira Gandhi blacklisted Khushwant. Eventually, Singh fell out with Menaka as well. (I played a cameo role in this episode. Singh gave me a bizzare interview in which he said that Sanjay had been fed up of Menaka perhaps because she was frigid. When the interview appeared, he first denied it but I had taken the precaution of taping him. Menaka felt betrayed and, as Khushwant himself wrote, never forgave him.)
How will history remember Khushwant Singh My sense is that his novels have not stood the test of time and that his political instincts consistently let him down. But his contribution to Indian journalism is undeniable, both in the way he transformed the role of the editor and in the writers he continued to encourage and mentor till the very end. Yes, he was sometimes silly and childish. But he was an essentially decent man with a good heart. And that, I suspect, was his greatest achievement.
Vir Sanghvi
A former editor of The Hindustan Times, the author is currently advisor to HT Media. He was also editor of Sunday, a rival to Singhs Illustrated Weekly of India
Also read: Search for missing Malaysia Airlines Flight MH370 resumes in remote southern Indian Ocean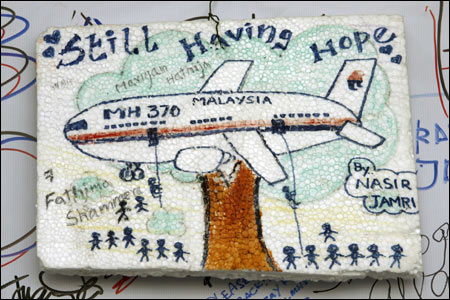 An artwork conveying well-wishes for the passengers and crew of the missing Malaysia Airlines Flight MH370 is seen at a viewing gallery in Kuala Lumpur International Airport March 19, 2014. (REUTERS)