Home buyers in metros are making a significant shift towards buying older flats in resale transactions instead of booking them in under-construction projects. Real estate experts say that with the continuing sluggishness in the sector and with no guarantees on timely delivery, end-use buyers prefer ready-to-move in options.
The resale properties market in India is a thriving one, and can be the source of excellent home purchases. One of the advantages for such buyers often depends on who has put the property on the market as actual users usually do not have the holding power of investors, which can often work to the buyers advantage, says Anuj Puri, chairman and country head, JLL India.
Across the country, the cases of delayed delivery have increased, spanning projects across all segments. These delays often stretch for years, throwing all planning into a tizzy.
We were assured the possession of our 2 BHK flat in a project at Panvel by the end of 2012. But there was no sign of possession or even completion until the first quarter of 2013, says Sunita Patil, a resident of Pune. We can neither withdraw at this stage nor can we buy another property due to lack of funds. To top it, we have to start repaying the home loan even before possession. We are not sure if the project will ever be completed.
In a resale transaction, there is hardly any uncertainty since a prospective buyer can inspect the property and all related papers. The only time a buyer needs is to arrange funds.
In under-construction projects, delays apart, there is no guarantee on the final size of the flat one may get. It could be a case of increased super area or decreased carpet area. The floor can be different from what was agreed upon. In some cases, amenities promised are missing or are inferior, and the view for which a premium was paid could be compromised.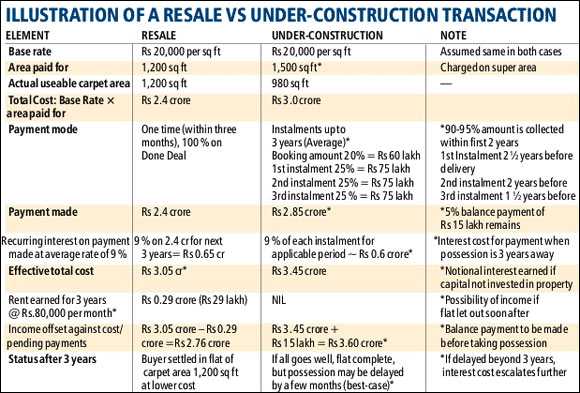 However in resale transactions, all these parameters are known to the buyer before-hand. He first visits the property and then settles on the price, says Suresh Ranka, a broker from Kandivali, a western suburb of Mumbai. The buyer makes an informed decision in the transaction. Nothing changes after the deal. You get what you paid for.
In under-construction deals, the buyer has to pay for much more than the actual useable carpet area he gets. For example, the buyer pays for total 1,400 sq ft on booking while he gets a carpet area of 980 sq ft, which might be mentioned in the agreement for sale.
This loading on carpet area is called super built up or saleable area. There is no fixed chart for such loading. Every inch of common area is also included. In many cases this extortion could go up to 60-80 per cent of the carpet area. However, the resale deals are usually done on as it is where it is basis. In Mumbai, the price is either quoted lump sum on all inclusive basis or calculated usually on carpet area. The buyer knows how much area he gets, adds Ranka.
In an under-construction property, the buyer pays for super built-up area, but while selling it, he is forced to charge only for carpet area, as that is the figure mentioned in all documents. But a flat bought in resale is on the basis of carpet area, and when resold, it would be on the same basis, which means there is no loss in the sale.
There is another risk in under-construction projects. Compliance with regulatory requirements could be sketchy, going by several cases that have rocked major markets especially Mumbai and Delhi-NCR, involving prominent developers. These developers do not reveal the correct status of their projects to the buyer. It is several years later, or when construction is mid-way that the buyer comes to know of the real status. The land may have no clear title, or some approvals may be missing. At this stage it becomes too late. The structure could come under either the court seal or the civic bulldozer. Another possibility is that the buyer again pays a penalty to regularise the structure.
In resale, the buyer can approach the society and cross-check all details regarding legal status of the building, society as well as that of the particular flat he wishes to purchase. He may check all the official records online. He can hire a professional to verify all the documents and get the search report of the earlier ownerships and transactions. All this is possible only in resale even before you pay a paisa. In usual under-construction deals, even the agreement draft in some cases is not shown without the booking amount, says Shefali Madan, an advocate at the Bombay High Court.
Even as the current market condition remains sluggish, developers are in no mood to reduce prices. They complain of being cash-strapped, which affects delivery. But then they are seen spending huge amounts in exhibitions, and advertisements, but would not grant the buyer a discount.
But in a resale transaction, a seller would negotiate and grant a good deal. One must note that bank loans are available for resale transactions too.
Besides, some under-construction projects offer unnecessary amenities which entail high maintenance costs. There are amphitheatres with no performances, multiple pools with hardly anyone using it, golf courses with nobody to play. The buyer has to pay for all these in advance while in resale, if these non-essential amenities are not available, the price is obviously lower. The buyer saves his capital for the same size of the flat in the same or a better location. Besides, the recurring cost of maintenance is also comparatively much lower in resale flats.
Some may argue against resale transactions since one has to pay 100 per cent upfront which is not the case with under-construction. Currently, the buyer has to pay almost 90 per cent in under-construction deals during first two years of booking, yet he does not know when it would be ready. In resale, one gets the keys of the flat upon payment. Loans are anyway available in both the cases, says Narendra Mehta, a Mumbai-based property consultant.
Besides, if the flat is purchased for investment purpose or if the buyer is unable to move in immediately, then it could be leased out and the income can offset the home loan payment or society maintenance charges but the same is not possible in under-construction project. Given the current state of real estate, buying a resale flat is like buying peace of mind.
- Anshumali Ruparel