The base price for Hindustan Coppers share sale has been fixed at Rs 155 per share, a 42% discount to the stocks closing price on Thursday. After the divestment, expected to take place on Friday, the government's holding will come down from 99.5% to 95.5%. Analysts have been pointing out that only an absurd discount could generate interest in the stake sale given the extremely low float and were expecting a discount of over 50%.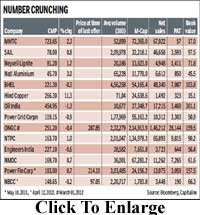 The Hindustan Copper counter has seen volatile price movements on higher volumes in the last two trading sessions.
The low-float stock plunged 3.9% or Rs 9.6 on Wednesday its highest intra-day fall in more than three months only to rally by 11.3%, or R27.10, to Rs 266.30 on Thursday as the government decided to sell only 4% stake in the copper miner through the offer for sale (OFS) route.
While not many analysts track the stock, citing its lower float and fundamental limitations, a few reckon that the government should offer the stock at a big discount for the sale to go through successfully.
The current stock price has little correlation with the fundamentals of the only copper miner that has operations in India. This is because India doesnt have large copper resources, while the company is not likely to buy any mining assets outside India.
Hindustan Copper is currently trading at 76 times its trailing earnings per share (EPS) of R3.5, Bloomberg data show.
There is no fundamental merit in buying this stock unless it is offered at a huge discount of 70-80% from the current market price, which is unlikely as it may lead to litigation against the government, he added.
However, experts believe more than the extent of discount, what investors would be keen to consider is a clarity on capital allocation by the company post the stake sale.
The pricing of an issue is derived from the company's capital deployment strategy that leads to cash-flow generation. However, most of the public sector units fail to provide any clarity on this aspect, which may not enthuse investors in the current markets conditions even if a discount is offered, said another analyst.
While several PSUs, including Nalco, NMDC, Oil India, NTPC and MMTC, have been in the limelight as the possible divestment candidates in the next one month, analysts, in general, have identified NMDC as the only attractive bet.