EU has decided to 'graduate' exports of several items including textiles and motor vehicles from India out of its GSP scheme.
New Delhi will ask Brussels to reconsider the decision by the European Commission (EC) to end a preferential tariff system for imports from India and other developing nations. Should the current regime of low customs duties end, it would make Indian goods more expensive with exporters paying anywhere between 6% and 12%. We have a months time before the new GSP (generalised system of preferences) regime to convince the EU, an official familiar with the development told FE.
The EU has decided to graduate exports of several items including textiles, chemicals, minerals, leather goods and motor vehicles from India out of its GSP scheme with effect from January. Preferential or nil customs duty to exports from developing nations under GSP is an exception to the World Trade Organisation obligation of member states to give every other member equal and non-discriminatory treatment under the Most Favoured Nation status. Other products to be excluded from the preferential import tariff include bicycles, aircraft, spacecraft, ships and boats. Indias exports to the European Union, which accounted for 17% of the countrys total exports, shrank by over 4% in 2012-13 to $50 billion.
According to official sources, Indias commerce ministry will also protest the EUs move to simultaneously grant zero customs duty on textile imports from Pakistan from January. This, according to New Delhi, will affect the regional competitiveness of Indias textile industry, its second largest employment creator after agriculture.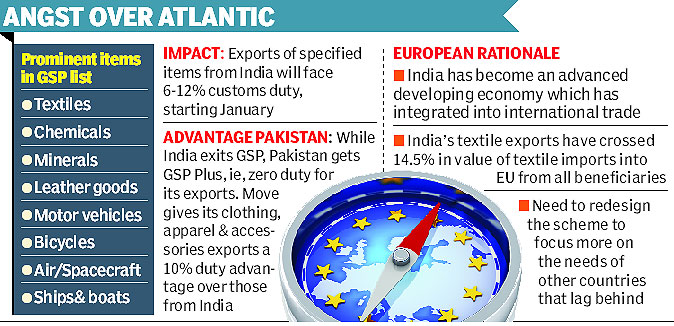 We will take it up with Brussels because for textiles, it is a double whammy. The EU has removed Indian textiles exports from GSP, which means higher duty at EU borders, and they are in the process of giving textile exports from Pakistan GSP Plus status, which means zero duty, an official confirmed to FE.
The move gives clothing, apparel and accessories exports from Pakistan a 10% duty advantage over those from India. The official explained that the EU Parliamentary Committees vote on November 5 to give GSP Plus status to textiles from Pakistan will have to be ratified by the European Parliament, which it is expected to do in early December. The ECs decision to graduate the Indian textile industry out of GSP from January 1 already has the approval of the European Parliament.
The EUs move to deny India the GSP benefit for certain goods is part of its plan to redesign the scheme. The idea is to exclude advanced developing economies that have integrated into the world trade and to focus on the needs of those that are lagging. Textile exports from India are being phased out of GSP as they exceed 14.5% in value of textile imports into the EU from all beneficiary countries, going by a three-year average up to 2012. For other products the threshold for exclusion is 14.5% as per the EU regulation.
The European parliamentary committees vote to grant for GSP Plus status to textile imports from Pakistan and nine other countries is aimed at promoting international conventions on core human and labour rights, environment and good governance. According to overseas reports, a GSP Plus tag for Pakistan would help it create a million new jobs, boost its exports to EU by $500 million and facilitate capital flow to the sector because of the competitive edge from tariff removal.
Ajay Sahai, director general and CEO, Federation of Indian Export Organisations, said the ECs decision would affect the competitiveness of the countrys exports. Even though the EC has suspended this preference for both India and China, we would be hit more since China is more competitive," Sahai said.
Indian officials are also worried about the prospect of a decline in forex inflows in a year in which they had to take harsh steps like curbing gold imports to contain the current account deficit to below $70 billion or 3.8% of GDP. "It is important for affected industries to prepare themselves for the change. The cost of specified Indian exports to the EU shall, as a result of the proposed changes, increase and accordingly will impact their competitiveness," said Saloni Roy, senior director, Deloitte in India.
"The US has already given many advantages to Pakistan due to various political reasons and with this suspension from the EU, we might see a shortfall of 2-5% in exports," said Vishwanath, joint managing director of Nath Brothers Exim International, a Noida-based firm exporting garments.
To get broader preferential access to the EU market, India is now negotiating a free trade pact with the EU, which already has such arrangements with about 34 other countries. Talks on the proposed India-EU pact are progressing slowly due to a lack of agreement on areas of market access and its extent.