'We are working on Mobilio?s pricing and once that is fixed'
Encouraged by the growth in sales volumes over the past one year, coupled with the expectation of a soon-to-be-launched vehicle to shake up the market, Japanese carmaker Honda is looking to ramp up production at its Rajasthan manufacturing unit to meet the expected surge in demand.
The company is going to start a second shift at its
recently commissioned Tapukara plant in Rajasthan later this year, expecting to achieve full capacity utilisation to cater to the incremental demand on account of its new multipurpose vehicle (MPV), the Mobilio, to be launched later this month. However, the Mobilio will be manufactured at the companys Greater Noida facility.
Honda, Indias fourth-largest carmaker by volumes, has an installed capacity to produce 2,40,000 cars in India annually. It sold 17,000 cars in June, 23% higher than the month ago and 70% higher than the year earlier.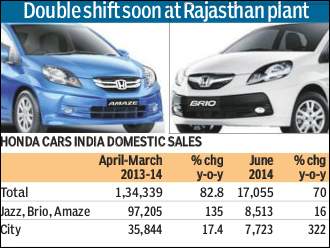 Our newly commissioned manufacturing plant at Tapukara in Rajasthan is operating a single shift right now, but we are planning to start the second shift soon, said Jnaneshwar Sen, senior vice-president of marketing and sales at Honda Cars India.
Sen said once full capacity utilisation was achieved, Honda might even consider operating a third shift at Rajasthan to meet any excess demand. Earlier this year, the Greater Noida plant ran a third shift. At present, the Rajasthan plant manufactures only the Amaze model.
Honda had for long been struggling in the Indian market, losing out on market share to rivals like Maruti Suzuki and Hyundai.
Where Honda fell behind was the absence of a diesel offering and key gaps in its portfolio like a small car and a compact sedan two segments that are hugely popular in India. In fiscal 2013, Honda reported a net loss of R1,110 crore, as per the companys filings with the Registrar of Companies.
However, things changed last fiscal, when the company gained traction in sales from its new offerings like Brio, its small car; Amaze, the compact sedan; and City, the new version of its traditional sedan. The diesel variants of the latter two models were in great demand among Indian buyers.
Hondas manufacturing facility in Rajasthan is spread over 450 acres and the Greater Noida facility is on a 150-acre plot. As per Sen, once the company attains full capacity utilisation in these two plants, it wont be difficult to scale up assembly lines in Rajasthan, as there is plenty of land available.
The Indian car market is eagerly awaiting the launch of Mobilio, which is expected to give fierce competition to cars like Maruti Suzukis Ertiga and Toyotas Innova. When it was launched in April 2012, the Ertiga sold around 7,000 units each month. Its sales have since moderated to around 5,000 cars a month at present.
We are working on Mobilios pricing and once that is fixed, we will be able to fix the volumes that we want to produce, Sen said, adding, Estimates show that we should have bigger volumes in this segment than some of our competitors.
Auto sector analysts, however, observed that Honda might have difficulty in servicing the kind of pick-up expected in volumes, given its current capacity. Honda's main concern, as of now, is not having enough capacity. As per our estimates, they could easily be looking at a volume of 40,000 cars a year for the Mobilio, said Puneet Gupta, associate director of IHS Automotive. However, it will not be easy for Honda, as rival Maruti Suzuki will not hesitate to play the discount game with the Ertiga, he added.