While the governments direct cash transfer through Aadhar is aimed at reducing leakages, low penetration of cards, especially for women, and a deficient banking infrastructure will pose challenges for the government to roll out cash transfers.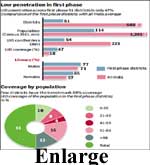 An analysis of the enrollment data by Kotak Institutional Equities shows that UID penetration across the first phase roll-out of 51districts for direct cash transfer (out of 640 districts in India) is only 47%. The 51 districts account for 113.9 million people or 9.4% of the countrys population. In fact, of the 223 million UID cards issued nationally, the 51 districts have 54 million cards and to reach the 80% benchmark in these districts, the Unique Identification Authority of India will have to issue another 34 million cards. Data shows that the authority typically issues 5-11 million cards per month. So, it will take a while to achieve the targeted coverage even in the 51 districts.
Moreover, in these 51 districts, only 41% of the UID cardholders are women. While transferring subsidies to the account of women would lead to better social outcomes, significant work remains to be done. Also, since fewer children and older people have been enrolled in UID, the initial plan of the government to focus on scholarships, health and social welfare schemes for direct cash transfers may not benefit the target audience.
Also, the population per bank branch in these 51 districts ranges between 10,000 to 20,000. Banks will have to step up their drive to open more new accounts for UID card holders for direct cash transfers.