HCC said Lavasa has filed draft Red herring prospectus with Sebi to tap the primary market. (Reuters)
The Hindustan Construction Company (HCC) scrip touched a three-year high on Tuesday after the company said its unit Lavasa Corporation is planning to enter the primary market with an initial public offering (IPO) of R750 crore. After touching an upper trading limit of R49, shares of HCC ended the session up R1.75 or 3.75% to R48.4, its highest since December 2010.
In an exchange notification, HCC said Lavasa has filed draft Red herring prospectus (DRHP) with the Securities and Exchange Board of India (Sebi) to tap the primary market by issuing equity shares with face value of R10. According to the DRHP, at least 75% of the issue is slotted for qualified institutional buyers (QIBs) with up to 30% allocation for anchor investors and 5% allotment for mutual funds. While allotment to retail investors is capped at 10% of the issue, the same may be offered at a discount.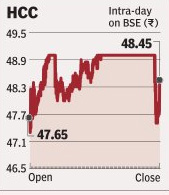 The issue is subject to receipt of requisite regulatory approvals, market conditions and other considerations, said the exchange filing.
This is the second time Lavasa has filed draft documents for tapping the capital market. Earlier in 2010, the company was planning to raise R2,000 crore by diluting 10% of promoters' holding in the company. The plan was then abandoned due to prevailing weakness in the market.
Although the draft document does not indicate the proposed dilution plan, it says the issue is for at least 10% of post issue paid-up equity share capital. It would be interesting to see the kind of valuations the company manages to demand now given that it has reported operating losses in each of the last four financial years while the revenue from operations have nearly halved to R171.4 crore between FY11 and FY14.
Lavasa currently has 79.59 crore of outstanding equity shares. HCC, through its wholly owned subsidiary HCC Real Estate (HREL), owns 68.7% stake in Lavasa while Avantha Realty and Venkateshwara Hatcheries hold 15.7% and 7.81 stake in the company. Non-executive directors Vinay Maniar (6.29%) and Gautam Thapar (1.48%) are also among the prominent shareholders of Lavasa.
Lavasa Corportion currently manages Lavasa hill station in Maharashtra. The company plans to use R350 crore, or nearly half of the IPO proceedings, in the construction and development activities at Dasve and Mugaon by fiscal 2017. It also plans to utilise R200 crore of the issue proceeds for repayment of debt by fiscal 2016. As per the DRHP, as of March 2014, the consolidated debt of the company stands at R3,397.8 crore.