Significantly, only a small proportion of those who have qualified IIT-JEE advanced exam had listed engineering and teaching/research as their fathers' occupation.
Candidates whose fathers are in government service and business formed 47.21 per cent, or nearly half, of those who cleared the joint entrance examination (JEE)-advanced of the IITs this year. The breakup is 29.83 per cent whose fathers are in government service (against a registration of 28.71 per cent) and 17.38 per cent whose fathers are businessmen (registration 16.38 per cent). Of the 1,26,749 who registered, 20,834 qualified.
Significantly, only a small proportion of qualified candidates had listed engineering (4.61 per cent) and teaching/research (5.52 per cent) as their fathers occupation.
Most of the successful candidates had educationally qualified fathers. Graduate and postgraduate fathers comprised 70.65 per cent (57.59 per cent of registrations) while illiterate fathers comprised only 8.10 per cent (8.70 per cent of registrations).
The middle income group crowded the list. Of the qualifiers, 33.87 per cent (41.05 of those registered) had listed their family income as being between Rs 1 lakh and Rs 4 lakh. Those earning up to Rs 1 lakh accounted for 11.60 per cent (19.53 among registrations). Those in the highest income group (over Rs 8 lakh) had fewer qualifiers (20.68 per cent) than the middle-income group but the highest success rate, with such having accounted for only 11.49 per cent of the resgitrations.
Students based in cities had a high success rate (64.78 per cent among the successful, out of 75.85 among the registered). Students from towns (15.99, 22.48) outnumbered those from villages (8.16, 12.74).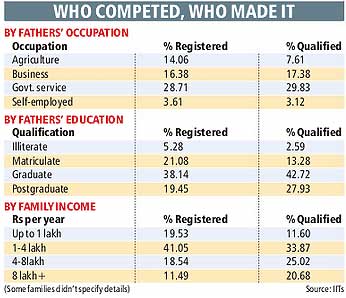 Fewer students took extra help than those who studied themselves, but the former enjoyed a higher success rate. Self-study students constituted 63.07 per cent of the registrations and 49.76 per cent of the qualifiers. Those categorised under other modes of preparation made up 36.92 per cent of registrations and 50.23 per cent of qualifiers.