Seven Gujarat cities figure among the top 100 cities in India, according to a study by Indicus Analytics. In terms of per capita state GDP, Gujarat emerges second only to Maharashtra. Thats not surprising at all as the state is one of the most favourite destinations of investors.
From Tata to Ambani, Sunil Bharti Mittal to Venugopal Dhoot to the Ruias, the whos who of corporate India is flocking to Gujarat. Its not only the domestic business moguls who are making sure theyre doing business with the state but also the international goliaths whore making a beeline for the state, which is making a bid for acquiring the tag of the countrys most investment-friendly destination.
Parimal Nathwani, MP and group president, corporate affairs, Reliance Industries Ltd, says, The shine of Gujarat on the golden jubilee year is largely due to focus on industrial economy, entrepreneurship of people, political stability and peace loving nature of people of the state.
Gujarats fertile investment climate has helped MNCs from GM and Hitachi to CLP and Bombardier to set up its base in the state. Talking to FE on the sidelines of an investment summit in Gujarat, Kumarmangalam Birla, chairman, Aditya Birla Group had remarked, The growth in Gujarat is excellent. We would prefer Gujarat for our future investments.
In fact, the state is being hailed as the ideal haven for investments particularly over the past few years. Three years ago, Tata Group chief Ratan Tata had made his famous observation, It is stupid if you are not in Gujarat. He followed it up by bringing his dream project Nano into the state a year down the line.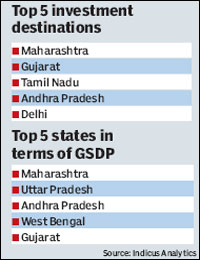 It goes to the credit of the pro-active state government that at a time when most states are selling themselves as investment destinations, in this new marketing arena, the state is emerging as a major gladiator. Armed with deft media management and high decibel publicity blitzkriegs, its biennial Vibrant Gujarat Global Investors Summits (VGGIS) are fast becoming case studies for all that state governments should do to market their USPs to investors effectively.
With the state chief minister Narendra Modi himself being projected as the brand ambassador of fast-track development of his state, Gujarat is vying for the top slot in the investment sweepstakes and Modi a strong contender for the best CEO CM award.
Those close to the state chief minister maintain that he takes his role as the CEO of Gujarat so seriously that he personally supervises the preparations for the VGGIS investment summits.
Incidentally, the concept of having these high profile investment melas every two years in a bid to attract mega investments into Gujarat is a brain child of Modi who even heads road shows to sell his state in various countries. The chief ministers famous quip is that there is no red tape in his state, only the red carpet which is laid out for anyone desirous of putting in his money into the state.
Prahlad Kakkad, advertising and management expert, had told FE, This is indicative of the cutting edge development of Gujarat. And will take the state miles ahead of other states in the country. Like any corporate, Gujarat too, has done very good homework to attract investors. This is not an overnight process or an out come of an exercise of a couple of months. It has taken the state seven years to reach at this level. Now, the future belongs to Gujarat. Within next five years, the states growth is sure to exceed all comparisons.
The states booming economy with the highest double-digit GDP growth of 11.05% for the five years ending March 2009 offers tremendous scope for anyone desirous of pumping investment into the state. The state has emerged as the countrys most valuable telecom circle in the ongoing auction of 3G spectrum, beating favourite Delhi, after four days of bidding. The 3G bidders recently valued the state at Rs 459.52 crore against Rs 437.65-crore for Delhi.
The states blend of prosperous consumers with relatively low tele-density (60%) compared to saturated metros like Delhi and Mumbai, makes Gujarat the next growth frontier for growth.
Investment in Gujarat counts a major share in Indias investment ratio. In last five years, Gujarats development share is 10.30% and as per RBI survey (2008), 22% investment opportunities are envisaged for 100 projects with over Rs 62.442 crore investment, which lead to $15 billion, rating Gujarat as the leading investment state.