India's gross direct tax receipts grew by a modest 6.5% in the first eight months of the fiscal to Rs 3,02,810 crore as interest rates and uncertain economic climate affected corporate income tax receipts.
However, less refund of taxes during the period compared to the same time a year ago helped the net direct tax collection grow by 14.63% to R2,50,866 crore, official data showed on Thursday.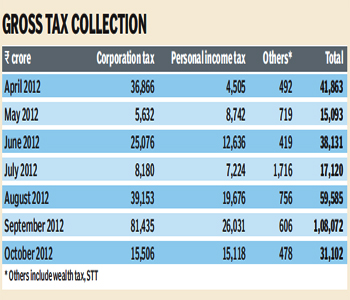 Tax collection figures do not come as a surprise considering the sluggish 5.5% economic growth in the first quarter and the 0.4% growth in industrial output in the April-August period, which made the corporate sector conservative about their profits.
Gross corporate income tax receipts grew 2.01% to R1,93,679 crore in the April-October period while gross personal income tax collection jumped 15.78% to R1,08,569 crore, according to the data released by the revenue department.
Net wealth tax receipts rose by 25.84% to R526 crore during the period but Securities Transaction Tax (STT) collection contracted 15.42% to R2,502 crore compared from the same period a year ago.
The government expects to collect R5.6 lakh crore as direct taxes this fiscal, anticipating a 14% growth from the previous fiscal.
The Centre has started a review of the amount of savings various ministries could make during the year.
"The department of expenditure is sitting with ministries for revised estimates. It is only after the exercise is completed, we will know whether there is any savings in this," Chidambaram told reporters here.
In the wake of less than anticipated tax and non-tax receipts and the obligation to dole out huge subsidies, the government wants to explore all avenues of savings.