The Indian skies are getting crowded. With the Tata Sons and Singapore Airlines venture closer to take off the proposal was blessed by the Foreign Investment Promotion Board on Thursday flyers will have one more option if theyre looking to fly with a full-service carrier.
By next November they may also be flying AirAsia, whose airline, also in partnership with the Tatas, was approved in March, and which plans to operate in the no-frills space.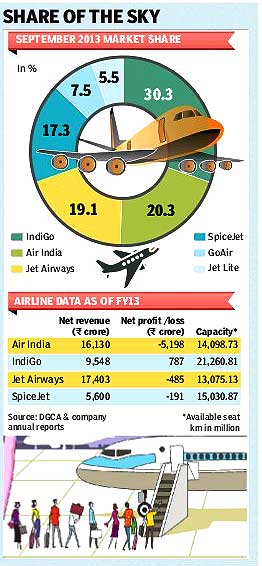 Indias Rs 50,000-crore aviation business flatters to deceive. Airlines collectively posted losses of Rs 12,809 crore in FY12 and Rs 9,270 in FY13. Indigo was the sole carrier to have made money in both years. In 2012, low-cost players flew 32.4 million or 60% of all passengers.
On the face of it, the full-service segment looks to be the more difficult to operate in, given how price-sensitive consumers are. Jet Airways, which shares the market more or less equally with Air India, notched up a record consolidated quarterly loss of Rs 996 crore in the three months to September, the lack of pricing power evident from the numbers.
Which is why the Tata-SIA combine will probably focus more on markets overseas. The overseas market to and from India is expected to grow to 50 million flyers by March, says Centre for Asia Pacific Aviation. Should the 5/20 rule be abolished soon this bars domestic airlines from flying abroad before five years and have 20 aircraft the market could hit 100 million by FY21.
In other words, an additional 35 million passengers would fly out of India and 15 million would fly in.
Experts believe the Tata-SIA alliance can do well. If they play it right, Tata-SIA has the potential to be among the top three airlines in India by 2015, Amber Dubey, partner and head (aerospace), KPMG, said.
Tata Sons will be the majority stakeholder in the partnership. "Very excited that the Tata-Singapore Airlines venture has got the clearance, said Ratan Tata, chairman emeritus of Tata Sons, after meeting finance minister P Chidambaram after the approval was granted.
A lot of work needs to be done from our end. The next step is to get a no-objection certificate for which we will apply to the aviation ministry shortly, Tata added. Singapore Airlines, a subsidiary of Temasek Holdings, is the worlds 10th-largest carrier with revenues of $14.8 billion in 2012 and a net income of $335 million. Its initial investment in the joint venture will be $49 million of the total $100 million. SIA carried around 18 million passengers in 2012.
The arrival of the Tatas on the aviation scene will mean increased competition for Jet Airways. The two-decade-old airline recently partnered with UAE-based Etihad, which has picked up a 24% stake in it. The JV would have an edge over rivals because it can exploit 50,000 seats per week to Etihad's home base Abu Dhabi, where it can also refuel at cheaper rates. Fuel costs eat up around 40-45% of total revenues of airline companies.
This is the third foreign joint venture approved by the government since a new aviation policy announced in September 2012 allowed foreign carriers to have stakes up to 49% in Indian airline firms. The Tatas were the first to announce the JV with AirAsia in February this year.
"The airline will begin with domestic services although we would like it to also operate international services. However this will depend on obtaining further regulatory approvals, said Nicholas Ionides, Singapore Airlines vice-president (public affairs), in an email statement.